Latest
From Farm to Table! Chef Eyal Shani Showcases Freshness At North Miznon's Dubai Launch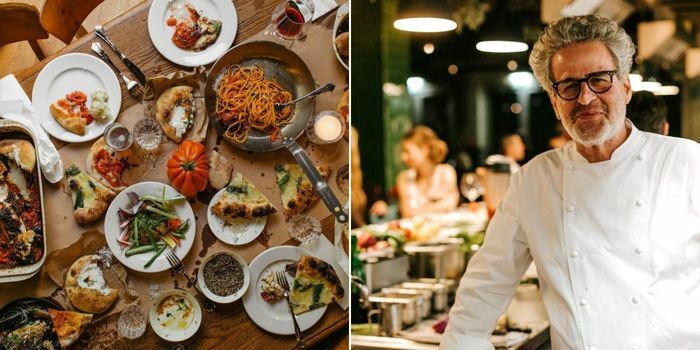 Dubai just got a little bit tastier thanks to the arrival of world-renowned chef Eyal Shani and his latest restaurant, North Miznon. The Jerusalem-born chef, famous for his Mediterranean-Levantine flame-grilled cuisine, chose Dubai as the location for his latest outpost, and it's easy to see why.
Chef Eyal was blown away by DXB's love of food and the warmth of the people. Dubai's food scene is one of the most dynamic in the world, with a diverse range of cuisine and a passion for locally grown ingredients.
View this post on Instagram
To celebrate the launch of North Miznon, Chef Eyal visited Veggie Tech Farm in Sharjah, where the restaurant sources its vibrant medley of vegetables, fruit and herbs
The farm tour was arranged by Fresh on Table CEO, Atul Chopra, and Chef Eyal used fresh ingredients from the farm to prepare a showstopping alfresco lunch for Dubai culinary luminaries, including top chefs and Hilton stakeholders.
On the restaurant's official opening weekend, Chef Eyal cooked his signature cuisine for an enthralled crowd, who were delighted to meet the culinary icon. Guests quickly embraced the party vibes of the restaurant, as dinner plates were cleared and lights were dimmed to make way for dancing until the small hours.
View this post on Instagram
Chef Eyal wrapped up his jam-packed long weekend with a hugely successful Chef's Table lunch for 100 people
He demonstrated the unifying qualities of food as Dubai's key media and opinion leaders gathered to share his vibrant tomato carpaccio, grouper salad, focaccia with spicy crème fraiche, seafood platters, roast chicken and more, while discussing the future of dining in Dubai and beyond.
Chef Eyal Shani is a true culinary icon, with 40 highly successful restaurants worldwide. He is considered one of the leading figures in the Israeli culinary scene and has starred in the TV series Food for Thought and appeared on the panel of judges during the past six seasons of Israeli MasterChef.
It's no surprise that Chef Eyal chose Dubai for his latest location. Its dynamic culinary scene and passion for locally grown ingredients make it the perfect place for North Miznon to call home. So, if you're in the mood for some delicious Mediterranean-Levantine cuisine, head on over to North Miznon and see what all the fuss is about.
View this post on Instagram
All the fresshhhh deets:
What? North Miznon
Where? Hilton DoubleTree, The Walk, JBR
Time? Open daily, 7pm to 3am