Latest
Standard Chartered Lit Up The Burj Khalifa To Celebrate Progress In The UAE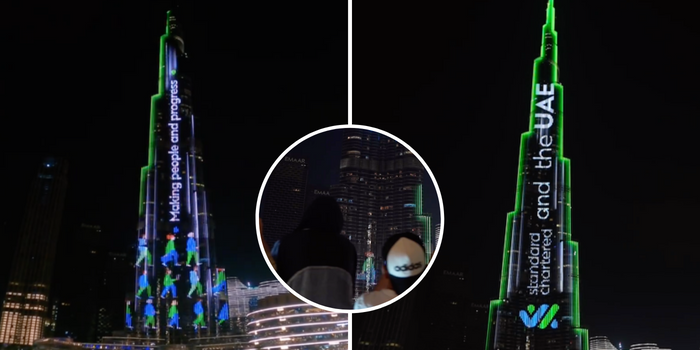 UAE National Day celebrations kick off on December 2.
The celebrations are countrywide, as everyone who calls the UAE home marks a successful year gone by. It's a day to recognize the impeccable leadership and vision of the country and to look ahead to the next 50 years.
The ambition of the UAE is no secret. This week, the government announced its vision for the next 50 years, with a roadmap to guide the country's success, while Standard Chartered Bank highlighted how its ambitions are aligned with the UAE and the bank's outstanding commitment to the future of the UAE in the most memorable way…
To celebrate the UAE's 51st National Day, Standard Chartered lit up the Burj Khalifa with an important message
The significant moment demonstrates its vision of powering possibilities and financing innovation
As the UAE looks ahead to the next 50, Standard Chartered is aligning with the nation's vision. The UAE is famously innovative with an attitude that strives to lead change, and this Standard Chartered celebration is a message that it too is rising to the future and standing tall for change.
With a future-focused mindset, the project was intended as an invitation for the next generation to build on the great legacy of the UAE.
Watch it here…
View this post on Instagram