Latest
Will Messi Win Player Of The Year At The Globe Soccer Awards?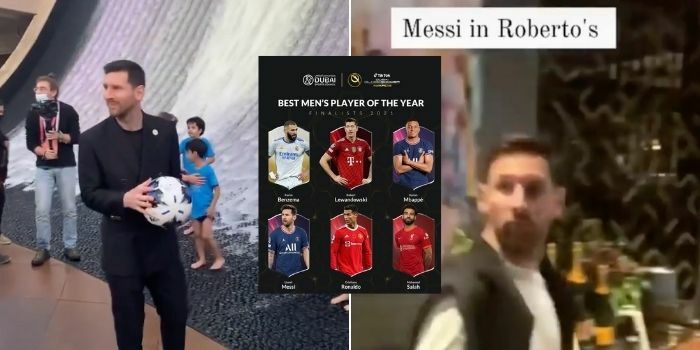 BIG NEWS!
Football legend Lionel Messi has landed in town and his first stop? Expo of course!
Touring the colossal site was no hardship for the incredible athlete, he visited the waterfall and the Argentina Pavilion before visiting a viewpoint to get a 360 view of the whole thing. It's not yet clear how long the superstar will be in town, but with the Globe Soccer Awards taking place at the end of the month (Messi is a top contender for player of the year), there's s possibility that he might be here until then.
Keep your eyes peeled folks!
Messi has landed in Dubai and he's already making headlines
He was also spotted in DIFC, walking through swanky Italian restaurant Robertos
View this post on Instagram
At Expo, he was in awe of the waterfalls and he visited the Argentina Pavilion
The football legend and Global Ambassador of Expo 2020 Dubai, Lionel Messi was Expo-loring the greatest showcase of human brilliance and achievement.#Expo2020 #Dubai@NouraAlKaabi@uaeatexpo pic.twitter.com/IdETSlBO9h

— Expo 2020 Dubai (@expo2020dubai) December 13, 2021
Barefoot and the best view in the house
Dubai enjoying Legend Messi 🐐pic.twitter.com/9EdIpv4X3X

— SemperFi Messi (@SemperFiMessi) December 13, 2021
The Globe Soccer Awards are happening in Dubai on December 27
The ceremony, organised in collaboration with Dubai Sports Council, will present winners of fourteen categories with nominees including Cristiano Ronaldo, Lionel Messi, Kylian Mbappé, Robert Lewandowski, Lucy Bronze, Italy and Argentina.
The event will feature 14 categories, including the first award for the Best Women's
Club of the Year, which joins the Best Women's Player of the Year award, that was introduced in previous years.
🏆 YOUR VOTES ARE IN!⁠⁠⁠⁠⁠⁠⁠ Globe Soccer Awards 2021 finalists for BEST MEN'S PLAYER OF THE YEAR are: Benzema, Lewandowski, Mbappé, Messi, Ronaldo, and Salah. pic.twitter.com/sRDZPnzvqE

— Globe Soccer Awards (@Globe_Soccer) December 13, 2021
The 14 categories in the 2021 awards are:
1. Best Men's Player of the Year
2. Best Women's Player of the Year
3. Best Men's Club of the Year
4. Best Women's Club of the Year
5. Best Defender of the Year
6. Best Goalkeeper of the Year
7. Best Coach of the Year
8. Best National Team of the Year
9. Best Agent of the Year
10. Best Sporting Director of the Year
11. TikTok Fans Player of the Year
12. Best Esports Player of the Year
13. Player Career Award
14. Special Award