Latest
10 Of The Most Gorgeous Mosques In Saudi Arabia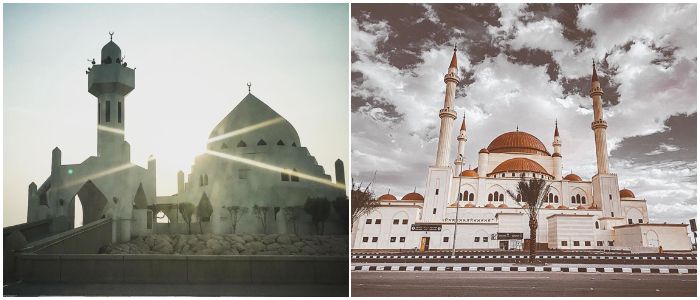 Saudi Arabia is the home to two of the holiest sites in Islam and being the birthplace of the religion, is home to some of the most beautiful mosques in the world.
Mosques, unlike some places of worship, have wide, open, carpeted prayer areas rather than seating and are often signified by their large outer domes. The beautiful mosques in Saudi Arabia come in different shapes, sizes and even different types of architectural influence.
Here are 10 of the most gorgeous mosques in Saudi Arabia:
10. Jawatha Mosque, Al Ahsa
At around 1400 years old, this is believed to be one of the first mosques in the  eastern part of the country.
9. Al Anbariya Mosque, Madinah
The details in the dome are just stunning.
8. Hasan Anani Mosque, Jeddah
The minimalist design of this mosque is simply stunning.
7. Salem Bin Laden Mosque, Khobar
The gem of Khobar's beautiful corniche, this all-white mosque stuns against the blue sky and waters.
6. Al Rajhi Grand Mosque, Riyadh
Riyadh's largest mosque, this grand mosque can hold over 20,000 worshippers.
5. Al Rajhi Mosque, Hail
With its striking domes and numerous minarets, Al Rajhi Mosque in Hail is as beautiful during the day as it is at night.
4. Al Rahma Mosque, Jeddah
Built partially over water on stilts, this stunning turquoise mosque is also known as the "Floating Mosque."
3. The Madinah Airport Mosque, Madinah
A mix of old and new, the mosque combines modern architecture with traditional Islamic geometric designs.
2. The Prophet's Mosque, Madinah
Masjid Un-Nabawi is the second most sacred site in Islam. The interior architecture is stunningly intricate and the exterior is marked by the striking green dome and many large motorized umbrellas which protect worshippers from the elements.
1. Masjid Al-Haram, Makkah
This is the holiest site in Islam which Muslims turn towards to pray five times a day and surrounds the holy Kaaba. Worshippers make pilgrimage to this grand mosque year-round and it is the largest in the world with a capacity of up to 4 million.