Latest
6 Indoor Activities In Riyadh To Beat The Summer Boredom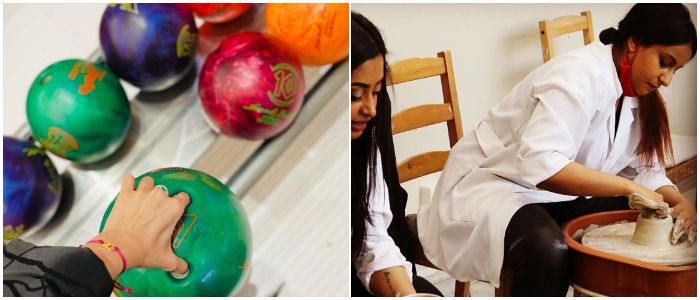 Riyadh is gorgeous, with its parks, zoo, and natural wonders. But a big part of Saudi summers are spent indoors trying to escape the heat. Luckily, there are plenty of indoor activities in Riyadh that will keep you from feeling cooped up and stir crazy. So if you've had enough of Netflix marathons and baking, there are some great options to get you up off the couch.
Here are 6 indoor activities in Riyadh to keep you busy all summer long:
6. Bowling
Gather a group of friends and head to Strike for a bowling session or two. There's nothing like a little healthy competition to beat the summer heat. Plus, it counts as exercise! Come here enough and you'll be bowling strikes and spares in no time.
5. Take a pottery workshop
Get hands on and let your worries melt away at one of Keramos Studio's many pottery and clay throwing workshops. Working on the wheel is known to be super soothing as the cool clay slips through your fingers. Definitely don't be afraid to get messy — or creative– and you'll have a cool memento to take home and show off to friends and family too.
4. Go trampolining
Get your endorphins pumping and burn some calories without hitting the gym at one of Riyadh's indoor trampoline parks. Once you've done enough freestyle jumping you can try things like trampoline dodgeball or basketball, among many others. For ladies and kids only check out Bounce. For the family check out Gravity at Magic Planet.
3. Try an escape room
Solving mysteries and riddles your thing? You've got to try an escape room. Challenge your mind and have some fun with friends trying to see if you can beat the clock as you try to find and solve clues. Escape the Room is one of the highly rated and popular rooms to check out. If you can handle a case of the creeps, they've got themed escape rooms like "Saw" and "The Prison."
2. Chill out with some winter sports
Snow in summer? No problem at Snow City. Get geared up in winter wear to beat the cold at this chill oasis. Indoor skiing, tubing and even ice skating among others that will have you forgetting how hot it is outside.
1. Up your cooking skills
Take your culinary skills to the next level — but know that you have to be able to handle a little heat to get in this kitchen. Blend Culinary offers classes for all ages and experience levels, both in person and online. From meats and main dishes, to pastries and delicacies from around the world Blend can help you impress your friends and family with your newfound skills. They also offer private classes if there's something specific you want to learn for a fun friends night out or a birthday celebration.