Jeddah
6 Jeddah Cafes That Are Basically Made For Instagram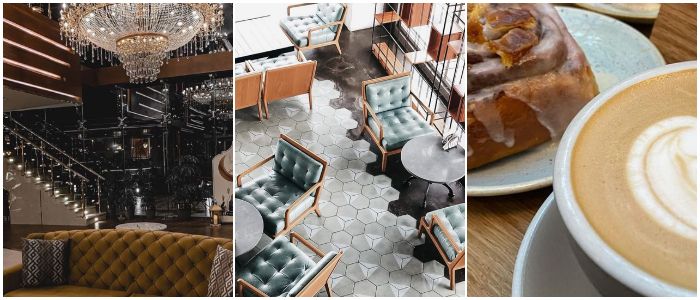 A good cup of coffee is hard to come by. It's even harder to come by a cafe that has strong, delicious coffee with an equally appealing ambience. Luckily, there are many Jeddah cafes that please both your tastebuds and your eyes. In fact, some of these coffee shops are so chic, you may find yourself taking photos of the place and not just the latte art.
Here are 6 Jeddah cafes that are basically made for Instagram:
Minimalist vibes are the feel at this new coffee shop which serves up tasty menu items like Nutella and Oreo brownies, and signature coffee drinks like the French Coconut and Black Peach. Going dairy free? This place also has many milk alternatives to suit your fancy. The covered patio is super cosy along with the leather seating inside and all white ambience.
Coffee snobs will appreciate the attention to detail at this artisan coffee house. Bafarat not only carries numerous types of Arabic coffee to suit your taste, they also have the finest coffee sourced from around the world. There's also something for everyone as far as the decor– industrial vibes with lots of pops of turquoise.
Single origin coffee? Check. A spiral staircase? Check. Ice cream sandwich in your coffee? Check. This place really has it all. It's no wondering this hip coffee chain has a massive fan following.
The cosy, boho-chic vibes at this place, as the name suggests, makes it feel like a place where poets and great minds come together to discuss great ideas. The quirky bohemian decor is unlike anything you've seen. Velvet chairs, pops of colourful paintings and don't forget the gorgeous plating they use which you've got to capture for the 'Gram.
Who doesn't like drinking their coffee under a chandelier? This place has super glam art-deco vibes that make it super Instagrammable. Day or night this place is the perfect place to have an upscale coffee and dessert with friends. You'll be ogling at the baked goods display with literally so many types of decadent cakes, tarts and croissants you won't be able to choose just one.
Chocolate lovers, rejoice! This chocolate cafe is a place where you can get your caffeine fix and sugar high in one super pretty place. This cute Jeddah cafe literally has every type of chocolatey concoction you could dream of, from truffles and hot chocolate to waffles and cakes. The glam art-deco interiors with the black and white flooring and pops of Tiffany blue are an Instagrammers dream.