Latest
9 Riyadh Breakfasts Worth Waking Up Early For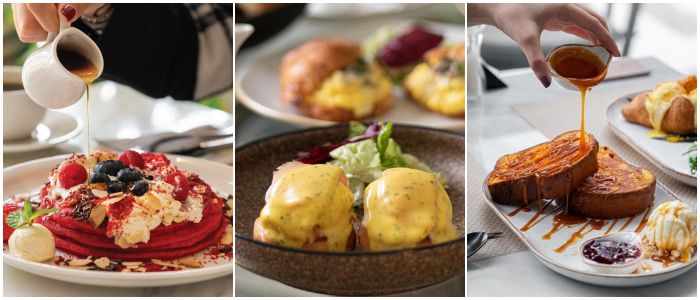 Cold cereal and box-batter pancakes just don't cut it sometimes. Sometimes you need freshly brewed coffee, sizzling eggs and pancake stacks piled high to start the morning right. There's no shortage of Riyadh breakfasts that'll serve up the kind of morning pick-me-up you need.
Here are 9 Riyadh breakfasts worth waking up early for:
9. Le Moulin Kitchen
French toast and pancakes served with ice cream? Check. A croissant dripping with hollandaise and eggs perfectly poached? 'Nuff said.
8. Eggsactly
Eggs are a breakfast staple, but the seemingly simple breakfast basic is tough to perfect. Eggsactly has perfected the art of eggs with their delicious breakfast bun sandwiches. They've got the most unique pairings like Cheetos and Taki chips loaded up on top of eggs and their amazing special sauce. Run don't walk here for your Riyadh breakfast.
7. Surround
All sorts of breakfast toasties — think avocado and feta, beetroot and labneh– in addition to thick as a brick French toast loaded with syrup make this a Riyadh breakfast favourite. Don't forget to try the chocolate babka for a sweet finish.
6. Urth Caffe
Health conscious eaters can get organic coffees and teas at this hot breakfast spot in Riyadh. Their eggs are cage-free and non-GMO, too for those with a preference. The corn flakes crusted French toast and red velvet pancakes are a must.
5. Lily Restaurant
The floral themed interiors at this Riyadh breakfast spot are as refreshing as their fresh squeezed juices. Their classic breakfast items including a delicious shakshuka as well as their fresh oven baked bread pies are complemented well by more modern items like a hearty morning beef hash.
4. Le Grenier a Pain
This boulangerie is known for French-inspired favourites like a mille feuille omelette, baked crepe egg bowls and fresh baked goods. Order a little something savory and then share one of their over-the-top desserts to satisfy your sweet tooth.
3. Circle Cafe
There's literally nothing on the menu at Circle that won't satisfy your tastebuds. Breakfast basics are just taken to the next level here, like a buttery, savoury croque madame sandwich to healthier options like a Powerball bowl and a hearty breakfast bowl loaded with halloumi. Their warm caramel French toast is sure to be a hit.
2. Oplaisir
The dishes are as chic and glamorous as the interiors at this French patisserie and cafe. The thick cut French toast drizzled with rich sauce, the flakiest croissants and cheesiest croque sandwiches will warm your belly and soul.
1. Le Vert
Breakfast is a whole experience, not just a meal, at this beautiful cafe where you can sit outdoors while you sip your coffee. The fresh fruit mocktails are the perfect refreshing accompaniment to their extensive menu.