Announcements
The UAE Suspends Flights From Three African Countries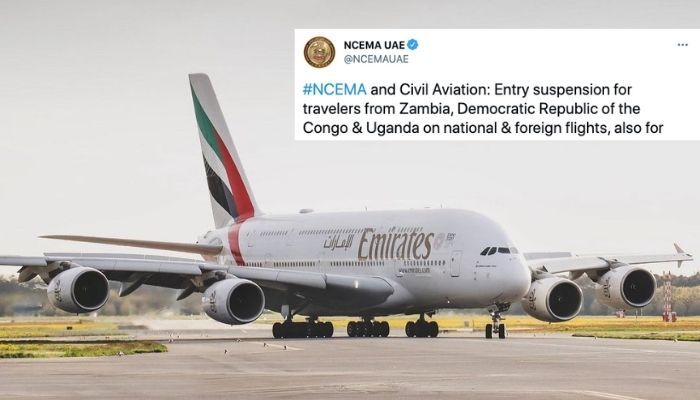 More and more travel restrictions have been implemented to control the spread of COVID-19. Countries with high infection rates have had flights suspended. The UAE has announced the suspension of flights coming from 3 African countries.
The travel restrictions will come into effect from 11:59 PM on Friday, June 11.
Also Read: Flights From The UAE To The UK Are Back ON
Flights from Zambia, Uganda and the Democratic Republic of the Congo are banned from entry to the UAE
Flights from Zambia, Uganda and the Democratic Republic of the Congo will be suspended for all incoming national and foreign carriers with some exceptions
The decision of this travel suspension was announced by the National Emergency Crisis and Disaster Management Authority (NCEMA) in coordination with the General Civil Aviation Authority (GCAA).
Exemptions from this travel suspension is for passengers of certain categories.
UAE citizens and their first-degree relatives.
Those on diplomatic missions accredited by the UAE and the three countries (including administrators working in embassies)
Official delegations and businessmen provided that they receive prior approval, and golden and silver residence visa holders
The holders of essential jobs according to the classification of the Federal Authority for Identity and Citizenship (ICA),
Gold and Silver residence holders
crews of foreign shipment and transit aircraft, provided they obtain a negative PCR test for COVID-19 within 48 hours of departure and upon arrival and adherence to quarantine until departure.
The requirements are:
10 day quarantine
PCR test at the airport also on day 4 and day 8 after entering the country.
The required PCR testing period prior to travel has been reduced from 72 to 48 hours, and all tests must be administered by accredited laboratories that issue results carrying a QR code
Cargo flights will continue to operate and so will outbound flights between the 3 countries.
As for travellers coming from one of the 3 countries and transiting in other countries, they must be quarantine for 14 days.
Listen To The Lovin Daily: Children Must Be Vaccinated To Attend Events