Coronavirus
Here Are The Benefits For Vaccinated People In Dubai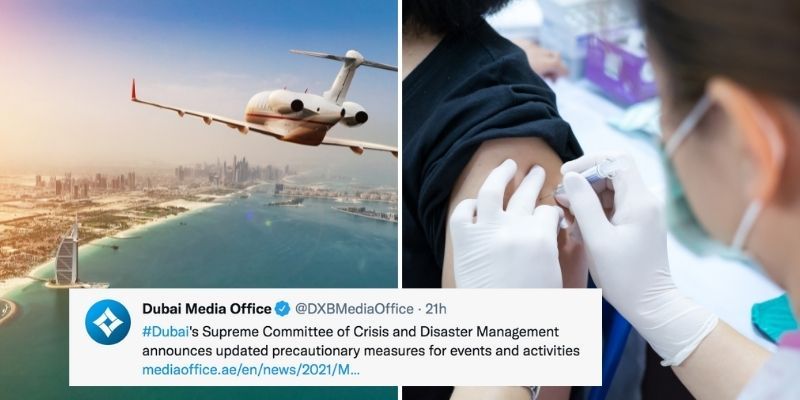 Vaccinated people will have more freedom in Dubai.
Yesterday, Dubai announced the easing of restrictions for events and activities in the emirate. (Yaay!)
But it comes with some exceptions.
The updated regulations is big news for restaurants, hotels, and events, which were operating under limited capacities (or, not at all). The capacity for indoor and outdoor events has increased but the requirements state that in some cases, all attendees must be vaccinated. This means vaccinated individuals in Dubai will have more freedoms than non-vaccinated people in the near future in Dubai.
Read here: Dubai Eases COVID-19 Restrictions Citywide – Effective Immediately
Vaccinated people can attend weddings, sporting events and concerts
1. Wedding events are allowed to be held with a limit of 100 attendees per venue and ALL attendees and staff should have received the COVID-19 vaccination
2. Sports events will now be permitted to allow spectators; provided that all attendees, participants and staff have received the COVID-19 vaccine
3. Concerts and social as well as institutional events can take place; provided that attendees and participants have been vaccinated
4. Live entertainment and activities are allowed to be held in restaurants, cafes and shopping malls for a trial period of one month (extendable) starting 17 May on the condition that the latest precautionary measures are observed and performers and entertainers have taken the COVID-19 vaccine
Previously Dubai announced it would investigate possibly limiting the movement of people who are not vaccinated
And this is the first step that will see movement restrictions for people who are not vaccinated.
Dubai residents can book their vaccine now on the DHA app.
We are all responsible towards society and have a role in preserving its health and safety, the vaccine is our best means to recover and return to a normal life.#TogetherWeRecover pic.twitter.com/ao5T3SRrAD

— NCEMA UAE (@NCEMAUAE) April 20, 2021