Dubai Food Festival
A Pinoy Restaurant In Deira Created A Viral Seafood Boil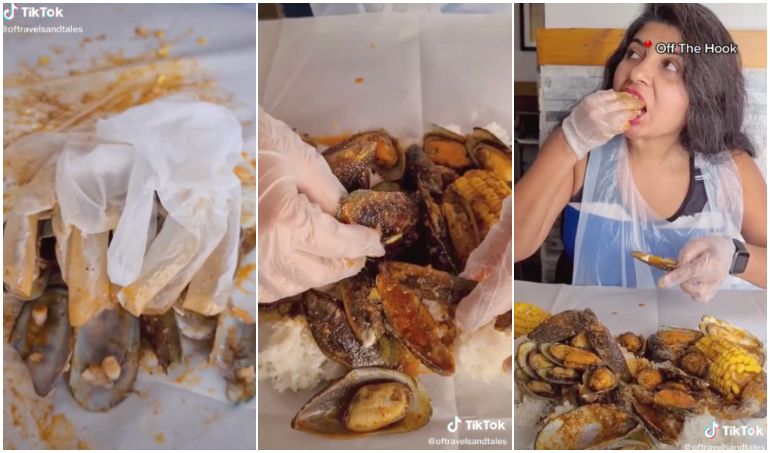 This isn't a meal, it's an experience.
A popular foodie TikTok account @oftravelsandtales by creators Delaine & Jack Dsouza is giving praise where praise is due for a Deira restaurant doing a brilliant seafood boil.
Off The Hook is a Pinoy seafood restaurant in Deira and if you're interested in exploring new foodie destinations, (particularly if you're a seafood lover!) then this is the one to hit.
The seafood boil comes prepped for you; the team lay it out, you get aprons, you'll choose your sauce, spice level and seafood, and all that's left for you lucky visitors is to simply dig in!
Seafood boil is not new, but the trend of documenting it on social is: This Mussel vid has racked up over half a million views on TikTok
Tis the season to seek out Hidden Gems!
And you don't have the break the bank to get out and enjoy them.
Get out and explore HEAPS of hidden gems. Dubai Food Festival 2021 has put together a list of 30 of the best Hidden Gems this city has to offer… Prepare yourself, you're 'bout to uncover serious foodie delights.
From Emirati and Indian to American and Lebanese, homegrown concepts and unique independents, save this list for your next foodie adventure!
Or how 'bout tucking into a rainbow burger? This looks good, but will it taste the part?!
Or how about proper Lebanese street food?
Read next: 5 Budget Eateries That Always Have A Queue At The Door
If you've lived in the UAE for longer than a year, chances are, you've developed a set of favourites for dining options. 
In Dubai alone, the myriad of options for foodies not only keep us satiated with comfort go-tos but aid us in venturing out to a new 'gastronomic' experience on a weekly (*coughs, daily) basis.