Expo 2020
Aliens Invaded Expo 2020 Dubai To Celebrate The "National Day" Of France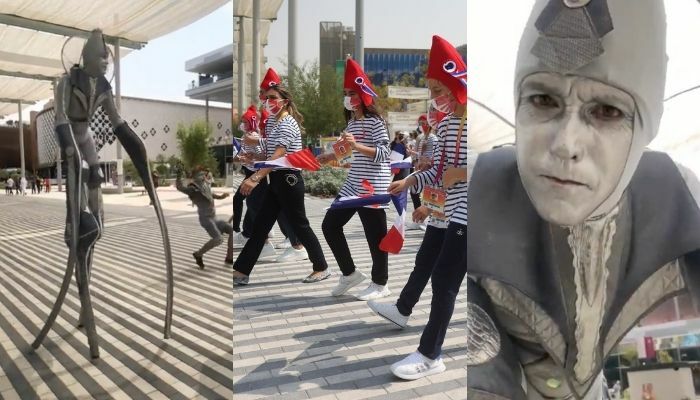 The France "national day" was greatly celebrated at Expo 2020 Dubai and had it the most futuristic guests! Expo 2020 Dubai opened just yesterday on October 1 and already it's generating a lot of buzz with their daily shows and entertainment. You might be wondering, but it's not the French National Day and you're right!
Each of the country pavilions will host an Expo "national day" to showcase their culture, from food to technology and even design.
As for those guests that came to celebrate France's National Day at the biggest event in the country, they are rather peculiar. They're tall, walk on 4 legs and are silver.
An alien invasion took over Expo 2020 Dubai to celebrate the "national day" of France
'Alien invasion' at #Expo2020 today for France National Day celebrations #Dubai @TheNationalNews pic.twitter.com/NdC9kR7foT

— Sarwat Nasir (@SarwatNasir) October 2, 2021
HH Sheikh Mohammed visited the French Pavilion and met with
Jean-Yves Le Drian, the

French Foreign Affairs Minister

HH Sheikh Mohammed bin Rashid al Maktoum, Vice President and Prime Minister of the UAE and Ruler of Dubai met with Jean-Yves Le Drian, the Foreign Affairs Minister of France. They both discussed the strategic partnership between the UAE and France, as well as Expo 2020's focus on building a better future for humanity.

Accompanying them was HH Sheikh Hamdan bin Mohammed bin Rashid Al Maktoum and Maktoum Bin Mohammed bin Rashid Al Maktoum.