Expo 2020
EVERYTHING You Need To Know About Expo 2020 Dubai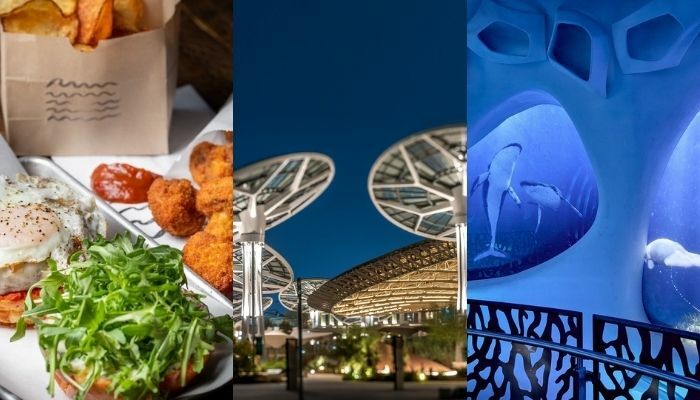 It's officially day 2 of Expo 2020 Dubai being open to the public and it's still the number one trending hashtag on Twitter, which ultimately means its THAT big of a deal! We're gonna drop the 101 on EVERYTHING Expo so you know exactly what you're walking into.
What is Expo? What are the pavilions? What are the sub-themes? And the most important question, do they really have over 200 restaurants at expo? All your questions will be answered right here!
Expo 2020 Dubai is the biggest event taking place in the city right now so here's EVERYTHING you need to know about it
View this post on Instagram
EVERYTHING about Expo 2020 from start to finish
As we all know Expo 2020 was meant to open on October 2020 but was postponed due to the pandemic so instead it opened on October 1, 2021 and will continue until March 31, 2022.
Dubai Expo 2020 is labelled as "The World's Greatest Show" and that's not just because there'll be 60 shows going on every single day! If you want to know exactly what shows will be taking place during the month of October, click here for the list!
There's 191 country pavilions, over 200 restaurants, and a Rove hotel if you wish to spend the night and keep the tour going! You can keep a record of every country pavilion you visited with expo's passport. It costs AED20 and is available for purchase from all official Expo 2020 Dubai stores on site, the Expo 2020 Dubai store located in Dubai Airports' Terminal 3 and to purchase online right here!
You can take the Dubai Metro, bus (Expo Rider), Careem and Uber, or e-Hail taxis to the expo site. You can rent bikes on site, inter-district, buggy, expo explorer your way within because walking is so last season.
View this post on Instagram
EVERYTHING about Expo's themes – Sustainability, Mobility, Opportunity
The theme for Expo is Connecting Minds and Creating the Future. There are also 3 sub-themes that have their own pavilions; Sustainability, Mobility, and Opportunity.
The Sustainability pavilion is designed by Grimshaw Architects and the district includes a Hammour House, Terra, a district stage, Czech Republic's, Germany, Singapore and more country pavilions. It reflects the need to use resources without compromising the ability of the planet to sustain future generations, in recognition of the role of natural and built habitats in ensuring human well-being and community resilience.
The Mobility Pavilion is designed by Foster and Partners and has the world's largest passenger lift that has a whopping capacity of 160 people! It includes futuristic vehicles, Alif pavilion, and country pavilions like Australia, Russia, and Korea. It reflects the physical mobility for individuals, access and distribution of goods and services, and virtual connectivity through information technology.
And finally the Opportunity pavilion is designed by AGi Architects. It includes the Mission: Possible pavilion which is a must-see! Also Monaco, Ukraine, Switzerland, and UK pavilions among others. It's all about reflecting the necessity of financial capital as a resource to support growth, and partnerships as a primary driver of innovation and employment).
View this post on Instagram
EVERYTHING you need to know about tickets
Tickets are available online on the expo app and at their ticket counters on site. And don't fret, you can upgrade them at anytime if you plan on continuing your visit another day. One-Day ticket: AED95, Multi-Day ticket: AED195, and Season Pass: AED495.
Those under the age of 18, seniors over the age of 60 and People Of Determination can enter FREE of charge!
There's so much to see and be excited about at the mega event so get your tickets and go before March 30, 2022 because at a blink of an eye, it'll be closed.