Feature
How You Can Help The Doggies Left Behind In The UAE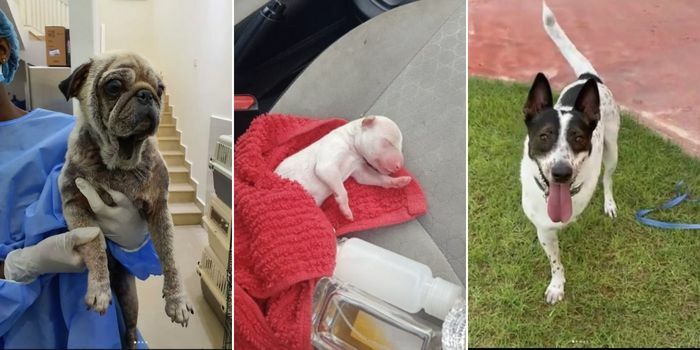 Warning: This article contains distressing imagery.
Recently, the news of a husky spotted abandoned on a balcony grabbed the nation.
An animal had been left outside, with no access to water, in 40C heat. It was first brought to the attention of animal shelter and rescue group, Stray Dogs Centre, who immediately visited the home and alerted the authorities.
In this story, we had a happy ending, but it's not always the case. Stray Dogs Centre is a UAQ non-profit organization, run by founder and manager Amirah William, they house and care for 852 dogs, 4 wonky donkeys and 15 cats.
If you were touched by the story of the husky rescue, know that this is minor for Stray Dogs Centre – you might recall the story of Braveheart a doggo the group tried desperately to save back in 2020
View this post on Instagram
Braveheart was found in an industrial area with open wounds and a broken spine. He had been terribly abused. After 24-hour care and urgent fundraising, he passed away despite all their efforts to save him
View this post on Instagram
Dogs are regularly left abandoned, and groups like Stray Dogs Centre run day and night operations to save them
Her owners left the country and left this sad little doggy behind in their villa compound. The neighbors saw her and contacted us
View this post on Instagram
Hit by a car…
Hit by a car, dragged herself off the road, was rescued by a volunteer, taken to the vet, paralysed back legs and a broken front leg = put to sleep in the opinion of the vet (not one of our vets).
View this post on Instagram
"A call to rescue, 3 cars, 7 rescuers, 10 crates 😁😁😁 17 lives saved ❤❤❤ Just another day at SDC"
View this post on Instagram
Cat and donkey rescues don't fall outside of the remit for the team
View this post on Instagram
Stray Dogs Centre is based in Umm Al Quwain- their shelter was a donation from Sheikh Saud bin Rashid Al Mualla, Ruler of Umm Al Quwain, so their priority lies there, however, they are regularly called further afield for rescues
They focus on the 4 R's: Rescue, Rehabilitate, Re-home and Repeat.
View this post on Instagram
Puppies are for life, not just for your stint in Dubai
The shelter shared some snappy advice for anyone looking to become a doggo parent;
A dog is a living creature that has the same needs as humans. Love, care, shelter (in uae climate AC) food and water. If you cannot provide for their basic needs then don't have a dog.
View this post on Instagram
You can help!
Although you may not be able to give a home to a doggo, the shelter looks for other types of donations. YOU can sponsor dogs, food, contributions towards vets bills etc, fee-paying activities, fundraising, and adoption charges.
There's also corporate sponsorship, monthly, recurring sponsorship, either financial, goods or service.
Stray Dogs Centre is a non-profit organization and federally approved by the Ministry of Climate, Change and Environment – see here for more info
READ NEXT: The Top 10 Places For Doggy Daycare In Dubai 2021