Best Of Dubai
The Top 15 Sundowner Spots To Try In Dubai In 2023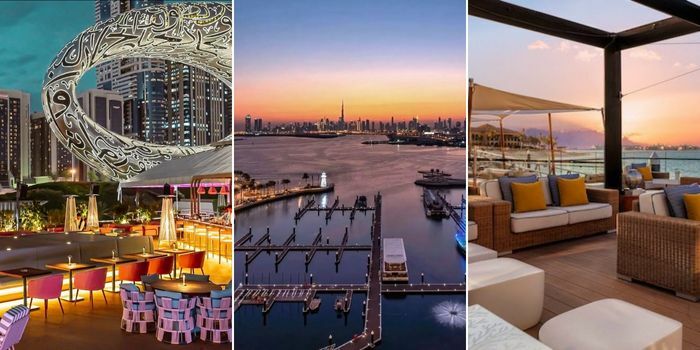 The Top 15 Sundowner Spots To Try In Dubai In 2023
The tour guides will tell you all about the Burj Khalifa, the theme parks, the shows to see and the places to eat, but not enough people shout about Dubai's AHMAYZINGGGG sunset!
The skies simply don't get much better than they do in winter months, and if you want to show off this city to your mates or to boo, whisk them off to any and all of these idyllic bars for sundowners, beats and bevvies.
Here's your ultimate guide to sundowner spots in Dubai for 2023
15. Tonino Lamborghini Mare Nostrum, Palm Jumeirah
Most spots on Palm Beach West boast a particularly great sunset, but this swanky rooftop bar and restaurant is elevated thanks to its elevated floor position at the Radisson Beach Resort Hotel, Palm Jumeirah.
It's a restaurant and pool club, that offers Palm, Dubai Marina, Burj Al Arab, andddd even Burj Khalifa views, along with a well-curated selection of drinks that will give you a slice of the Mediterranean right here in Dubai.
More info here
View this post on Instagram
14. 101 Dining Lounge and Marina by Yannick Alleno
It's fancy, it's glamorous and it's perfect if you want to impress. It's an indoor-outdoor venue that specializes in seafood, expertly crafted cocktails, and fine bubbles – what more could you need?!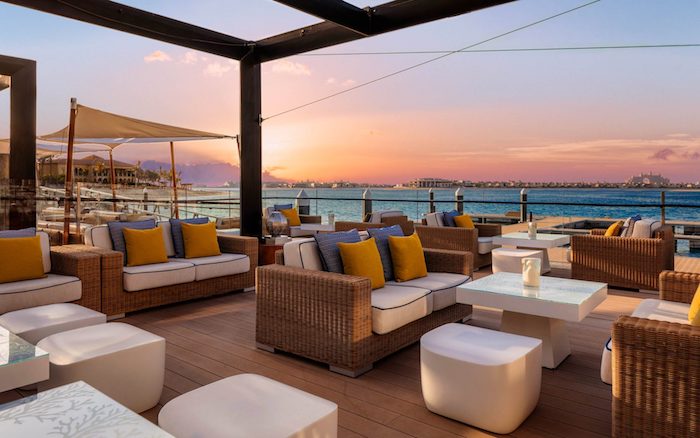 13. Koko Bay, Palm Beach West
If Bali vibes are your jam, look no further. Koko Bay is inspired by the beaches of the Far East. The bay is a chill day-to-night spot and the best bit? Doggos are welcome!
More info here
View this post on Instagram
12. NOÉPE, Park Hyatt Dubai
If you haven't visited Noepe yet, put this on your list of restaurant bucketlist immediately! Escape the city and tuck into Nikkei cuisine in a chic setting on the most stunning waterfront terrace.
More info here
View this post on Instagram
11. Folly, Souk Madinat
This is a firm favourite on the Dubai foodie trail. With a Michelin Bib Gourmand nod and an epic sunset to boot, this is an elegant sundowner option in the heart of Souk Madinat Jumeirah.
More info here
View this post on Instagram
10. Twiggy by La Cantine, Hyatt Dubai
Twiggy by La Cantine is a low-key firm favourite of celebs when they come to town… and you can see why. Bringing Riveria vibes to the city, Twiggy is a Mediterranean Beach Club & Restaurant that happens to have an infinity pool, Dubai Creek AND sunset views.
More info here
View this post on Instagram
9. Address Grand Creek Dubai
This is the sunset that's been clogging up your 'gram feed, and if you're looking for somewhere particularly boujee to enjoy it from, this is your spot! Enjoy 'the grand waterfront spectacle' from the dining outlets located within.
More info here
View this post on Instagram
8. La Mezcaleria, JBR
If you like your sunset with a side of Ain Dubai and Mezcal, La Mezcaleria's second Dubai outpost will be right up your street. Always whipping up a good time, this is a vibing weekend hotspot to have on your must-visit list.
More info
View this post on Instagram
7. Shimmers on the beach, Jumeirah Mina Salam
Serving a taste of the Mediterranean in extremely chic vibes, and it's not JUST the sunset you'll be gazing at… Treat yourself to a meal and incredible Burj Al Arab views too.
More info here
View this post on Instagram
6. Venus Ristorante & Beach Club, Caesars Palace
Skip the flight to Amalfi, Venus Ristorante is Italy summer vibes wrapped up. A more chill sister to her neighbor Cove Beach Dubai, this is a brilliant weekend pool hangout that takes you from day to night with the help of stunning beachfront views.
More info here
View this post on Instagram
5. Mi Amie, DIFC
Watch Dubai skies drift from day to night in DIFC's latest rooftop bar offering. Mi Amie has S.T.U.N.N.I.N.G Museum of the Future views and buzzing bar vibes.
More info here
View this post on Instagram
4. Barfly by Buddha Bar Dubai
If your Insta is crying out for swanky content, get yourself here. Barfly by Buddha Bar Dubai is an upscale bar concept, and coming from the world-renowned Buddha Bar concept, it does not disappoint. The resto supper club sits on the 13th floor of Hilton Dubai Palm and it's vibing every day of the week.
View this post on Instagram
3. The Penthouse Dubai, Five Palm Jumeirah
It doesn't get more 'grammable than this. Whip out your dancing shoes, and prepare for a blast. This famous sprawling 'penthouse' is serving Japanese bites, creative drinks, and a picture-perfect sunset view.
More info here
View this post on Instagram
2. D R I F T Beach Dubai,
One&Only Royal Mirage
Perfect weekends are MADE for a day at drift. It's a private beach club that features an infinity pool, lush landscaped surroundings, and that all-important Arabain Gulf sunset.
More info here
View this post on Instagram
1. Cana by Tamoka
LOVE. THIS. SPOT. Dubbed 'the cheeky little sister of Tamoka', the chill beach bar sits in front of the Ritz Carlton, Dubai and the team has done a brilliant job creating dreamy beach bar vibes in the new space. If you love the feel of the sand between your toes coupled with chill beats, this is the sunset bar for you.
More info here
View this post on Instagram