Emirates
400 Vaccinated Passengers Took An Emirates Flight Around The UAE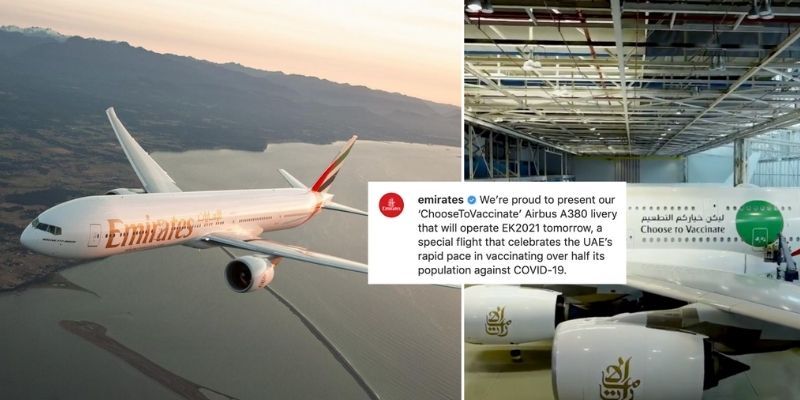 400 Vaccinated Passengers Took An Emirates Flight Around The UAE
Imagine taking a flight aboard an Emirates plane to go around Dubai? Well, that my friend, is a reality.
Emirates decided to take a select few people, all of which have gotten vaccinated, for the special flight to celebrate how quickly the UAE was able to vaccinate over half its population against COVID-19.
The airlines is commemorating the AMAZING progress that the UAE took in its vaccination programme
The flight, as announced by Emirates' Instagram account, is to take place on Saturday.
.@emirates today marked the #UAE's remarkable progress in its vaccination program with a special flight that carried only fully vaccinated crew and passengers onboard. pic.twitter.com/Yh9xG0YjVs

— Dubai Media Office (@DXBMediaOffice) April 10, 2021
400 vaccinated pilots, crew and passengers took on the EK2021 flight from Dubai International Airport (DXB) at 12pm
Emirates is getting ready to operate EK2021 today with the help of our partners across Dubai's aviation industry.#FlyEmiratesFlyBetter #EK2021 #ChooseToVaccinate pic.twitter.com/6aM52ipCj2

— Emirates Airline (@emirates) April 10, 2021
The flight departed at 12pm UAE time and cruised over many areas across the UAE
The EK2021 flight returned to Dubai at 2.30pm!
SO COOL! I know a bunch of us would have wanted to go on a one-off flight, especially since its celebrating the rapid development in the UAE's vaccination programme.
Emirates is proud to present the 'ChooseToVaccinate' @Airbus A380 livery that will operate EK2021 tomorrow, a special flight that celebrates the UAE's rapid pace in vaccinating over half its population against COVID-19. #FlyEmiratesFlyBetter #EK2021 pic.twitter.com/drHtIdMPlp

— Emirates Airline (@emirates) April 9, 2021