Community
This Bank Sales Call Tactic In Dubai Is Just Not Okay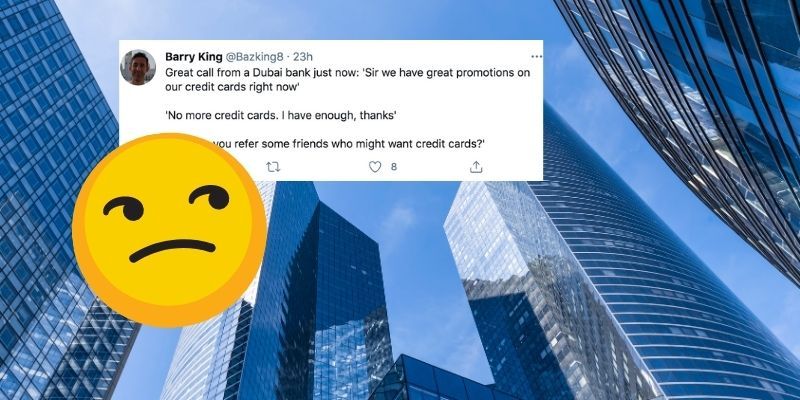 This Bank Sales Call Tactic In Dubai Is Just Not Okay
We've all been there!
Telesales people, particularly those who work in banking here in Dubai, are extremelyyy eager. Like the salesmen stereotype of the 80s, (brash and brazen, people who'll do anything for a sale) once your number is on their call list, (unlucky you) the calls won't stop until you dish out a very firm 'no!'.
But in this case, when a resident said no, the bank salesman had a new tactic.
Dubai resident Barry King was asked if he would like more credit cards. Barry responded, 'no'. To which the bank marketer said, "OK. Can you refer some friends who might want credit cards?"
Wait, WHAT?!
Download The Lovin Dubai app for free RIGHT HERE (App Store) (Play Store) to get the latest trending stories to your phone.
This bank sales customer growth hacking strategy is just not okay
Great call from a Dubai bank just now: 'Sir we have great promotions on our credit cards right now'

'No more credit cards. I have enough, thanks'

'OK. Can you refer some friends who might want credit cards?'

— Barry King (@Bazking8) March 2, 2021
"Do you have friends…"
As though you would actually share your friend's private information over the phone. The gall!
This response pretty much sums it up
Absolute financial ghouls in this region!

— Monkey Head (@monkeyhead78) March 2, 2021
Read next: Ramadan To Begin In 6 Weeks Followed By 3-Day Long Eid Holidays
This 2021, the holy month of Ramadan is predicted to begin on Tuesday, April 13 or Wednesday, April 14, depending entirely on the sighting of the moon.
According to Islamic Finder's calculation, Ramadan is expected to begin on Tuesday, April 13. However, Oman's Mazen Al Mafraji, the Head of the Hijri Calendar Department at the Ministry of Awqaf and Religious Affairs, predicted that Ramadan will begin on Wednesday, April 14.
Ramadan this year will last 30 days and Muslims can expect to celebrate Eid Al Fitr on Thursday, May 13.