Latest
A Dubai Cyclist Warns Of The Dangers Of Road Cycling Following A Horrific Accident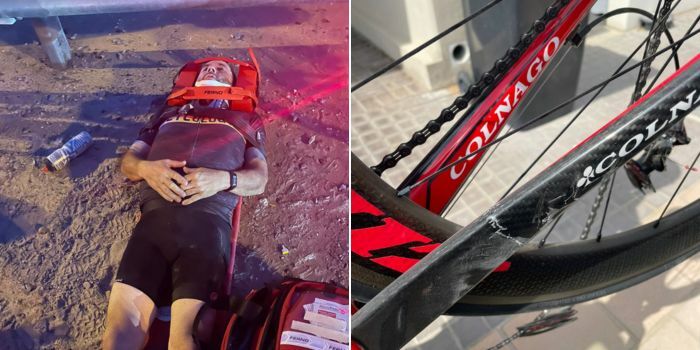 Graphic content warning.
A cyclist who could have lost his life in a road accident is spreading an important message.
Keen cyclist Andy Fordham was involved in a serious bike/car accident on the Al Qudra roundabout in which he collided with a 2000kg vehicle. The accident took place on a route he had ridden more than 200 times, and he's shared the story to alert other cyclists about how easily accidents can happen, to save lives, and to put an end to needless road accidents.
Andy formed Dubai Cycling Community Facebook Group over 10 years ago, and he's an enthusiastic member of the Dubai cycling community. However, he said he has 'witnessed too many unnecessary deaths on the road from cyclists like me who believed they were good cyclists and safe riders – Current count of deaths on bicycle since 2012 for me is 11.'
"Was it my fault – 100%"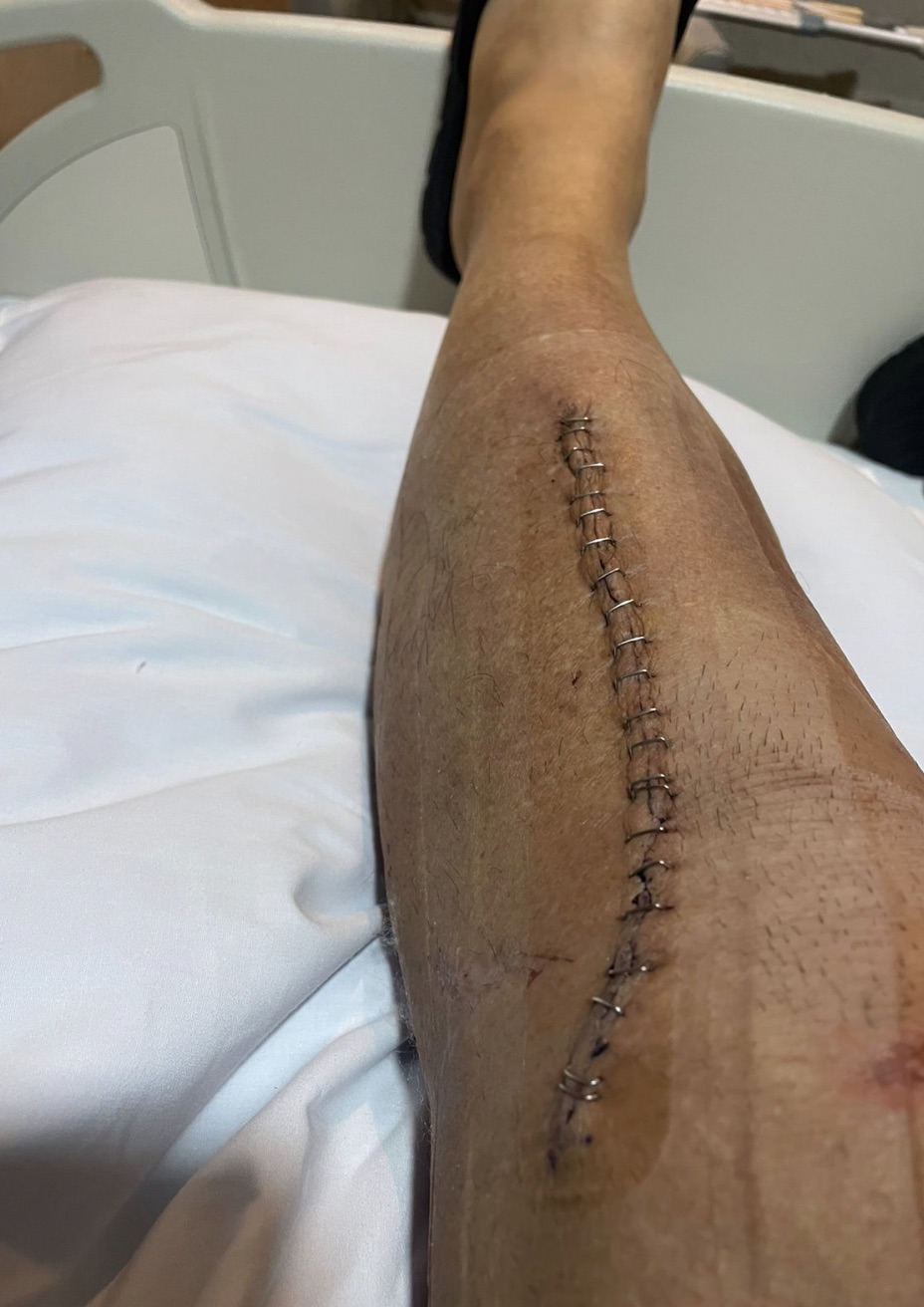 The reality is that a 2000kg vehicle will always win when colliding with an 80kg rider……so I really ask all riders to stop riding on any public road as one day your luck will run out…..like it did for me.
Andy was riding at approx 85kph when the accident happened, 25kph over the speed limit. Cycling on a route he was more than familiar with, he thought it was the easist and safest way to reach his home in Town Square. Despite the fact that he was prepared, he said he was hit because the driver of the car was not expecting him to be on his right.
"As much as I used extreme hand signals, and am aware of the dangers – nothing will ever prepare you for the day when you make the wrong decision and pay the price."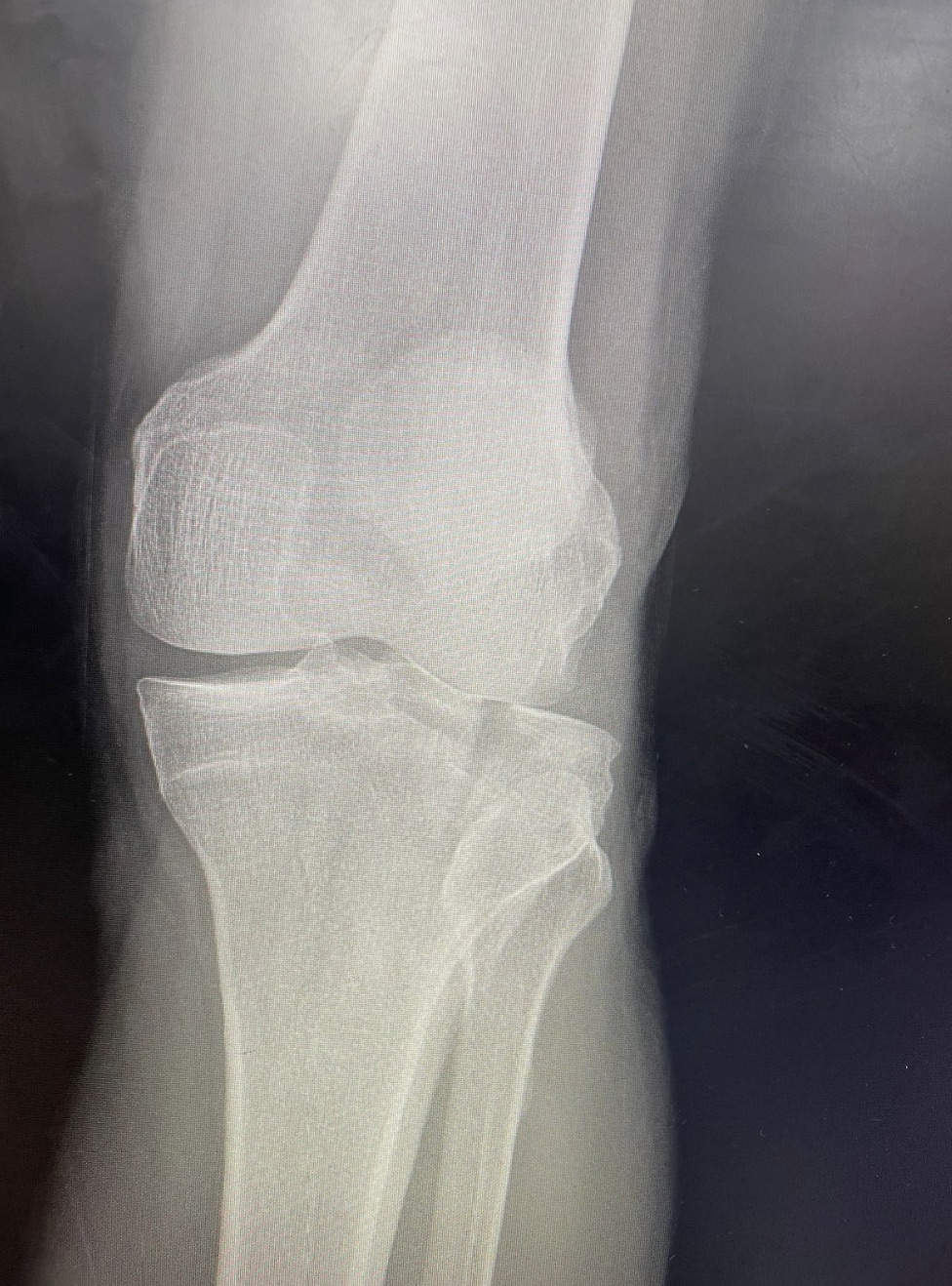 The only purpose of this post is to save lives and stop this happening to anyone else…please do not ride on public roads unless you have a death wish.
Andy summarised his post by highlighting the incredible facilites we have here for cyclists in Dubai. So, why take the risk? He's currently on the road to recovery and looks forward to cycling once again on bike tracks in Dubai.
Good luck with your recovery, Andy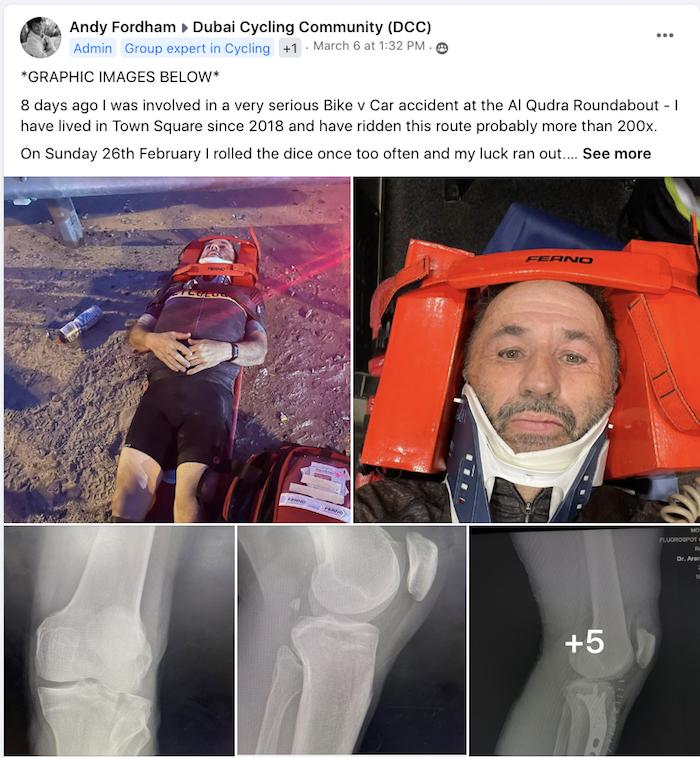 Get the latest Dubai news direct to your phone RN! Download The Lovin Dubai app for free RIGHT HERE (App Store) (Play Store) to get the latest trending stories to your phone.
Subscribe to our Newsletter.
Get the best of your city straight to your inbox.
Read next: Emirates Flights To The UK Cancelled And Diverted In Bad Weather