Dubai
The Winning Footage At The Dhow Race Reminds Many Of This Centuries-Old Tradition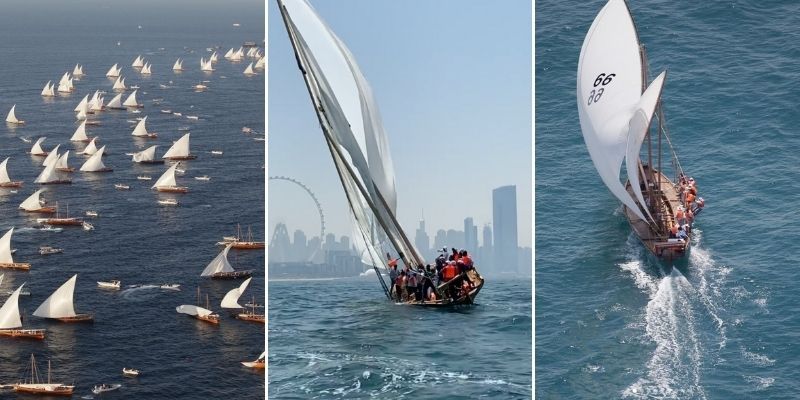 The Winning Footage At The Dhow Race Reminds Many Of This Centuries-Old Tradition
Winning footage of the boat 'Nirman' by Sheikh Zayed bin Hamdan bin Zayed Al Nahyan won the recent Al Gaffal Race and did so in style.
Dubai Sports Council has shared the videos of the winning team, exuding the pride of spectators on how smooth sailing it (sorry, had to!) went. The Al Qaffal Race has been a consistent competition in the UAE, running annually since 1991. 
The Al Qaffal Race is a steady reminder of the UAE's preservation and respect to the older generations heritage 
Of course, the use of dhows for practically everything was a standard in the day-to-day life of an Emirati. The Al Qaffal Race best preserves this knowledge among the UAE youth by reminding them about their parents and grandparents' form of livelihood and transportation in the past. 
Image Credits: Instagram @DubaiSportsCouncil
Catch the glorious moment when the 'Nirwan' dhow won the race
HH Sheikh 
Sheikh Saeed bin Hamdan bin Rashid Al Maktoum crowned the champions on Friday afternoon
As a tribute to the nation's maritime heritage, the Al Gaffal Race started way back in 1991
…and has been a continued annual competition since.
It is a testament to Emirati families tracing back to their routes, we're talking the pearl trade with ancestors who were divers, dhow captains or pearl merchants. A celebration of that life, if you will.
or listen to today's Lovin Daily Live: The UAE Will Experience The Hottest Summer To Date
READ MORE: 6 Places To Visit In Dubai This Weekend PERF For Foodies
We wait 5 days, 120 hours, 7,200 minutes and 432,000 seconds EVERY week to get to this moment.
To get to the WEEEEKENEDDDD!!! Wuhuuuuu. And this weekend there are heaps in store to keep you occupied. And this weekend is kept solely for 'em foodies.
Scroll for deets!
6. BTS fans got for the limited edition BTS Meal (in stores until June 28)
Get your hands on the limited edition BTS meals at McDonald's until stocks last!
Available at McD outlets across the UAE. Until June 28.
Read the rest here.