Latest
A Tiger Used For A Gender Reveal In Dubai Has Sparked Debate On Social Media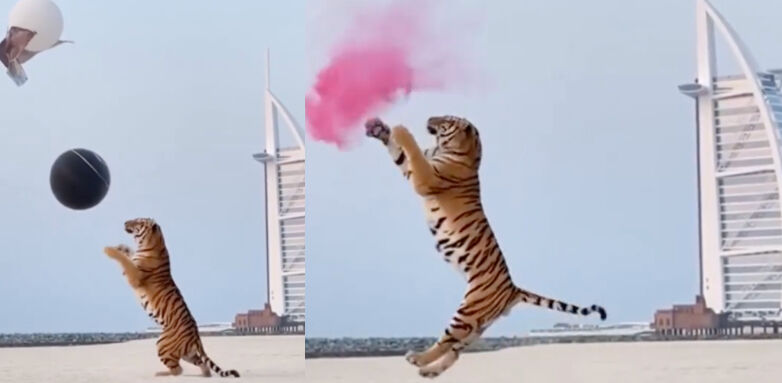 Dubai has seen gender reveals of all levels, from chill backyard brunches to UAE-based Syrian influencers Anas and Asala Marwah having their baby's gender illuminated on the Burj Khalifa!
The skyscraper-studded city is no stranger to OTT celebrations, however, footage shared of the latest most extravagant gender reveal shows a live tiger popping balloons to spill the gender of the baby (revealed to be a baby girl) is receiving flak on social media.
Social media users were left triggered by the exploitive nature in which the live animal was being used for a social media stunt. The mom-to-be who originally uploaded the video on her Instagram soon took it down after receiving immense backlash over the 'wild' video.
Lovin Dubai shared the video on socials and the comments under the post expressed strong sentiments
Garnering over 320k views and 1k comments, the video drew heavy criticism from concerned cybersurfers.
View this post on Instagram
"People Furious Over Tiger Being Used For Gender Reveal In Dubai" – The outrage over the tiger-themed gender reveal even made international headlines
The video was originally shared with the disclaimer:
"Tiger was not harmed and plastic was disposed of. Relax everyone."
PSA: As per Dubai laws, it is illegal to unlawfully own OR keep exotic animals as pets and bring them out into the public space
Violators will be subject to a fine of up to AED500,000 for the offence as well as a jail term of up to 6 months.
Watch the Lovin Show: Young Arabs Would Choose To Live In The UAE Over Anywhere Else In The World