Announcements
'Burj Khalifa' Begins Trending On Twitter As The BIGGEST Gender Reveal Leaves The Internet Divided In Two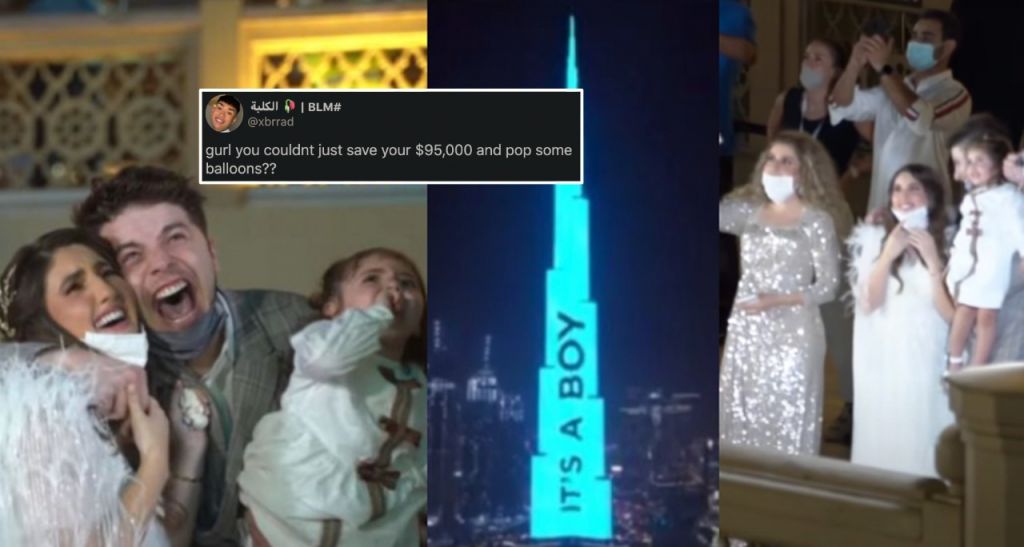 'Burj Khalifa' Begins Trending On Twitter As The BIGGEST Gender Reveal Leaves The Internet Divided In Two 
We have come from OTT proposals and promposals to over the top, mighty extra GENDER REVEALS! Welcome to the latest trend, where parents are now flixin' and going all out with creativity to reveal the sex of their child in the most novel fashion.
Soon to be parents of 2, Anas Marwah (one of the biggest Arab YouTube superstars and internet personality) and wife Asala Marwah have literally SMASHED the gender reveal game by taking it to new heights (quite literally) as the sex of their second child was projected on to the Burj freggiinnnn Khalifa!! And boy *wink* was it some event.
I am trying my best to give content that no one has ever seen before…
Asala told viewers during the clip, as the family were readying ahead of the reveal.
To me, doing it in this way is something very big.
Allegedly the famed Arab duo spent a whopping AED348k to have the tallest building in the world aglow with the gender of their little one, but other reports suggest that this was a collab between Emaar and YouTube star Anas Marwah. Marwah's videos with his wife and daughter have received MILLIONS of views.
Whatever it may be, the internet is literally IN TWO about this not-so-little gender soiree!
On one side you have those in disbelief of the lavishness of this entire affair and just not having it by insinuating that this gender reveal was a waste of money. On the other hand, you have people kinda loving the extra-ness of the whole gender reveal jamboree.
ALSO READ: Dubai Influencers Have The Biggest Gender Reveal Party Ever!!
Same fam… same.
Guess it's still better than setting acres of land on fire…
Jokes aside, a gender reveal party thrown in Southern California's San Bernardino County had torched down more than 10,574 acres since Saturday, September 5 – which severely endangered wildlife and led to mass evacuations in the area.
The man's got a point… but well when in Dubai, spend like you ballin' (you feel?)
I mean this gender reveal didn't torch down a whole county right? No harm no foul!
LOOL such life goals honestly!!
Akshar right here is asking all the right questions!! Seriously what would you post on the Burj Khalifa if you had a couple of hundred thousands to spare??
As EGGSTRAAA as Marwah's gender reveal might be, you can't HELP but watch with a huge smile on your face as the Burj Khalifa lights up in bright blue revealing that issaaaa boyyy!
Sorry Narins… that's AED5,000 that you'll never see again.