Announcements
Top Iftar Spots In Dubai To Try This 2023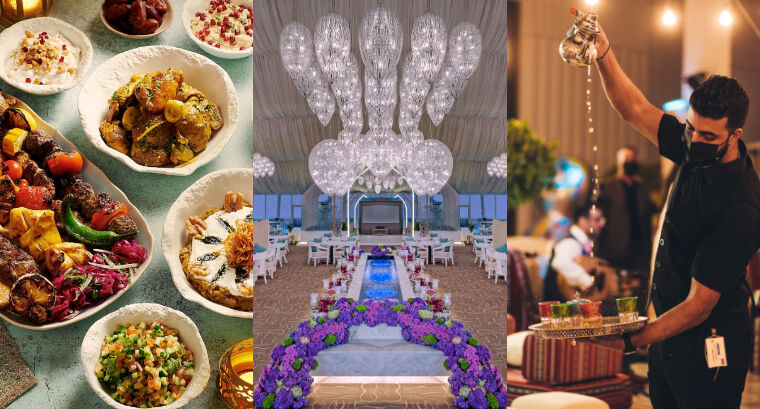 Dubai, the city of dreams and extravagance, is known for its luxurious lifestyle and breathtaking sights. But, when it comes to breaking fast, this city takes it to a whole new level. The month of fasting is a time of reflection and a chance for locals and residents alike to experience the cultural essence of Dubai. And what better way to immerse yourself in this experience than by indulging in some of the best iftar offerings around the city?
From five-star hotels to quaint cafes, Dubai has many options to satisfy your taste buds during this special time. So, hit up your loved ones and get ready for a mouth-watering journey through the top places to go for iftar in Dubai.
Fill your souls with love and our stomachs with delicious food from any of the following wholesome spots!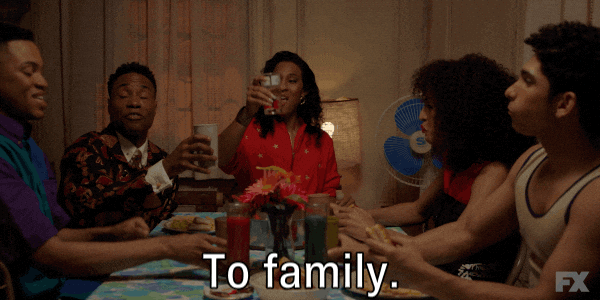 23. Have yourself a splendid Iftar under the stars with Nujoom Ramadan
Since Ramadan will start in spring, it's the perfect time to have Iftar poolside and under the stars. Nujoom Ramadan by Sofitel Dubai Downtown will transport you to the region's most famous old and new souks, taking direct inspiration from the bustling markets in Istanbul, Marrakesh and Tehran. As for the food, it's all authentic street food that's absolutely appetising.
When? Served daily during the entire month of Ramadan from sunset until Suhoor
Price?
AED145 per person
AED70 for children from the age of 7 – 12. Children below 6 dine free.
Where? Sofitel Dubai Downtown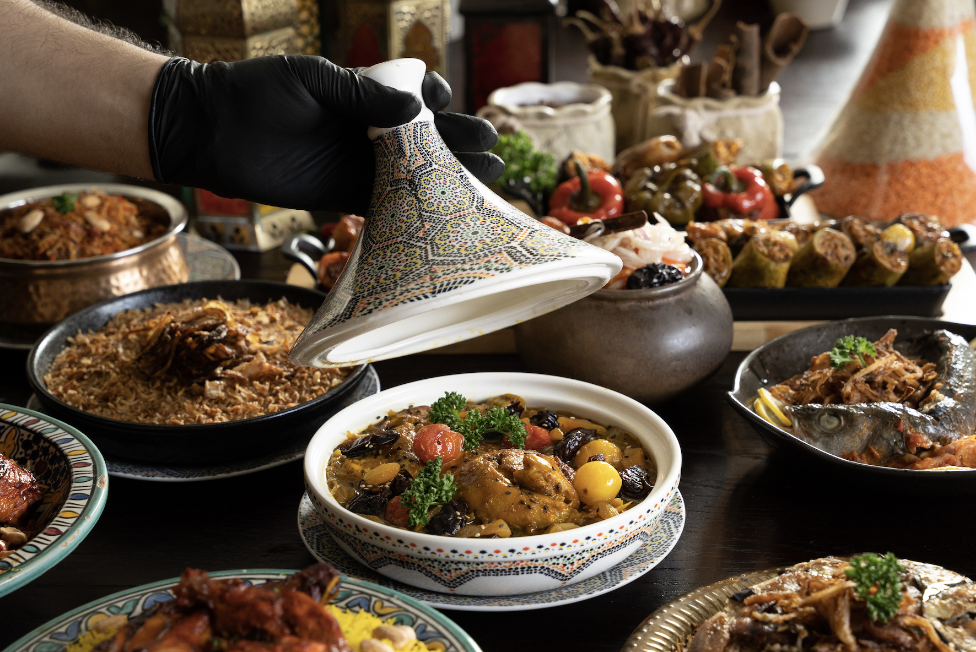 22. The Ibn Battuta Iftar will take you on a culinary journey around the globe
Inspired by the travels of the great explorer, Ibn Battuta Iftar by Sofitel Dubai Downtown is all set to take you on a culinary voyage.
Sample local delicacies from North Africa, Turkey, Iran, India, Sri Lanka and Southeast Asia this Ramadan! This Iftar buffet at Les Cuisines is unlike any other and has the most unique delectable dishes from around the world.
When? Served daily during the entire month of Ramadan from sunset until 10pm
Price?
AED250 per person (inclusive of drinks)
AED125 for children from the age of 7 – 12. Children below 6 dine free
Where? Sofitel Dubai Downtown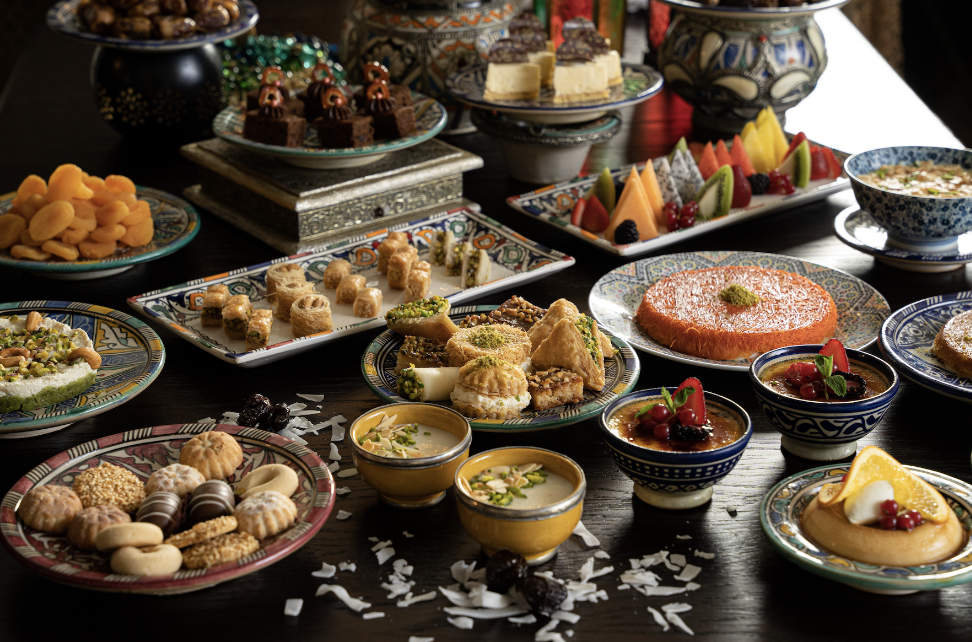 21. Ramadan at chanca by COYA
Chanca by COYA, renowned for its authentic Peruvian cuisine, introduces its Iftar set menu for Ramadan. Indulge in a delightful array of exquisite flavours featuring an eclectic mix of dishes that will transport your taste buds to new culinary heights. Break your fast with Sukkari dates and Guacamole, and a choice of one soup. The appetizers are to be shared and enjoyed family-style, allowing guests to relish in various dishes and flavours such as Artichoke Ceviche, Corn Salad and more.
To satisfy your sweet tooth, the menu offers Delicia de Luna, made up of dates cream, rose water, pistachio, apricot and camel milk ice cream is the perfect way to complete your iftar the COYA way.
Time: Sunset – 7:30pm
Price? AED285 per person
Where? chanca by COYA, Dubai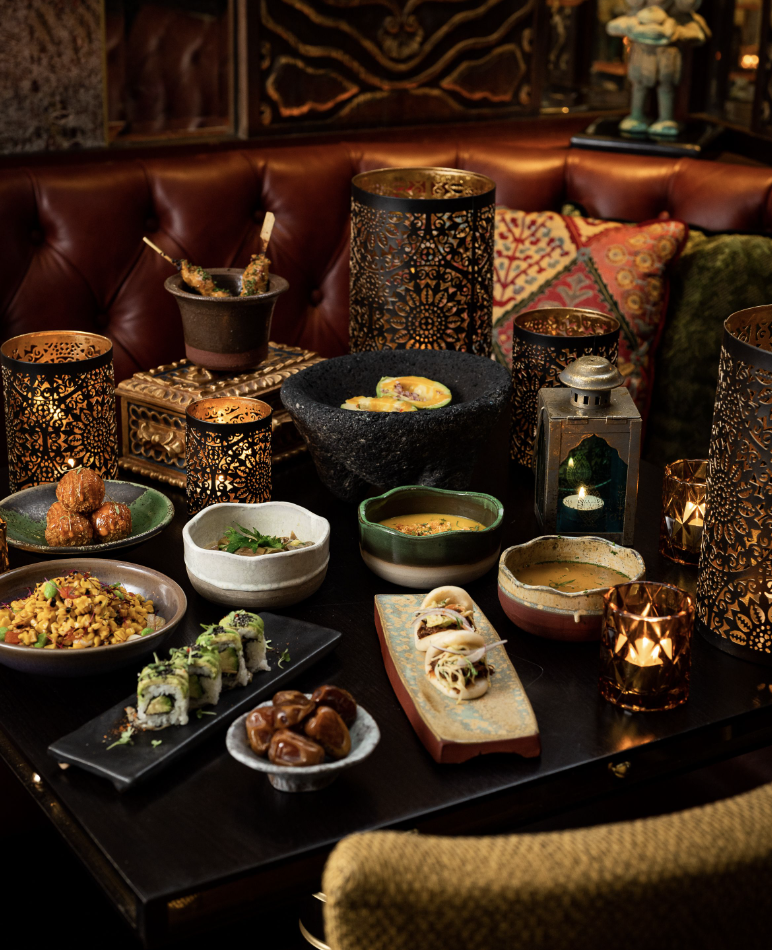 20. Iftar Buffet at Cordelia,
The St. Regis Dubai, The Palm
Cordelia will offer a selection of delicious dishes by showcasing a flavoursome Iftar spread. Guests can indulge in Arabic staples reminiscent of time-honoured family recipes, expertly prepared by Cordelia's incredible chefs, starting with heartwarming soups, a range of hot and cold mezze, traditional Ramadan beverages, and dried fruits and nuts.
Price? AED225 per person
Time: Sunset – 8:30pm
For reservations, please call +971566889885, WhatsApp +971566889885 or e-mail sr.palm.fbres@stregis.com
*Book by March 21st and receive a special Iftar rate of AED 199 per person to dine between March 21 – 31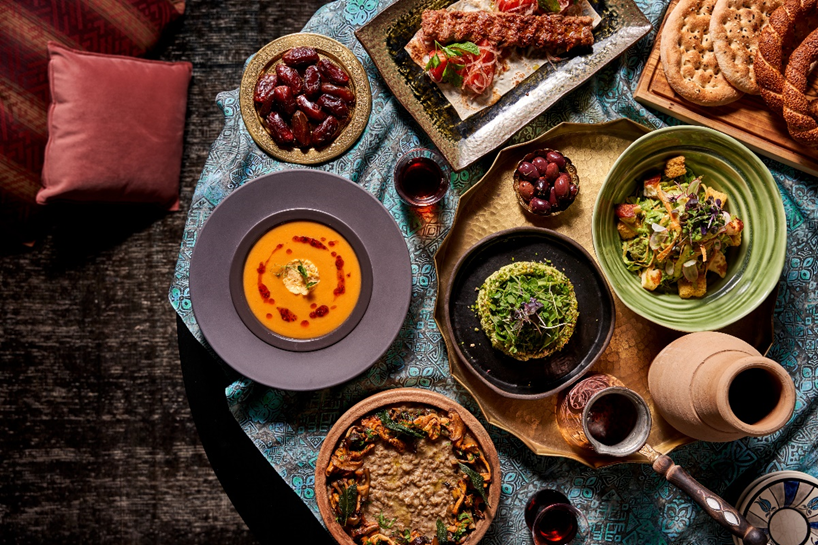 19. Bombay Borough's Exclusive Iftar Feast 4-course Set Menu is a new take on Classic Indian Flavors
To mark the holy month of Ramadan, all-day Indian Bar & Eatery in DIFC, Bombay Borough, has created a special Iftar Feast set menu featuring generous portions, hyperlocal ingredients and customary Iftar dishes with delectable flavours from all over the Indian subcontinent.
From appetizing snack plates to indulgent Kebab and Biryani Thaals (platters) and delicious desserts, the exclusive menu combines traditional vegetarian and non-vegetarian iftar meals with contemporary Indian flavours to surprise visitors with an elegant experience when breaking their fast.
What? Iftar Feast Set Menu
Dates? Throughout Ramadan
Timing? 6-9pm
Price? AED205 per person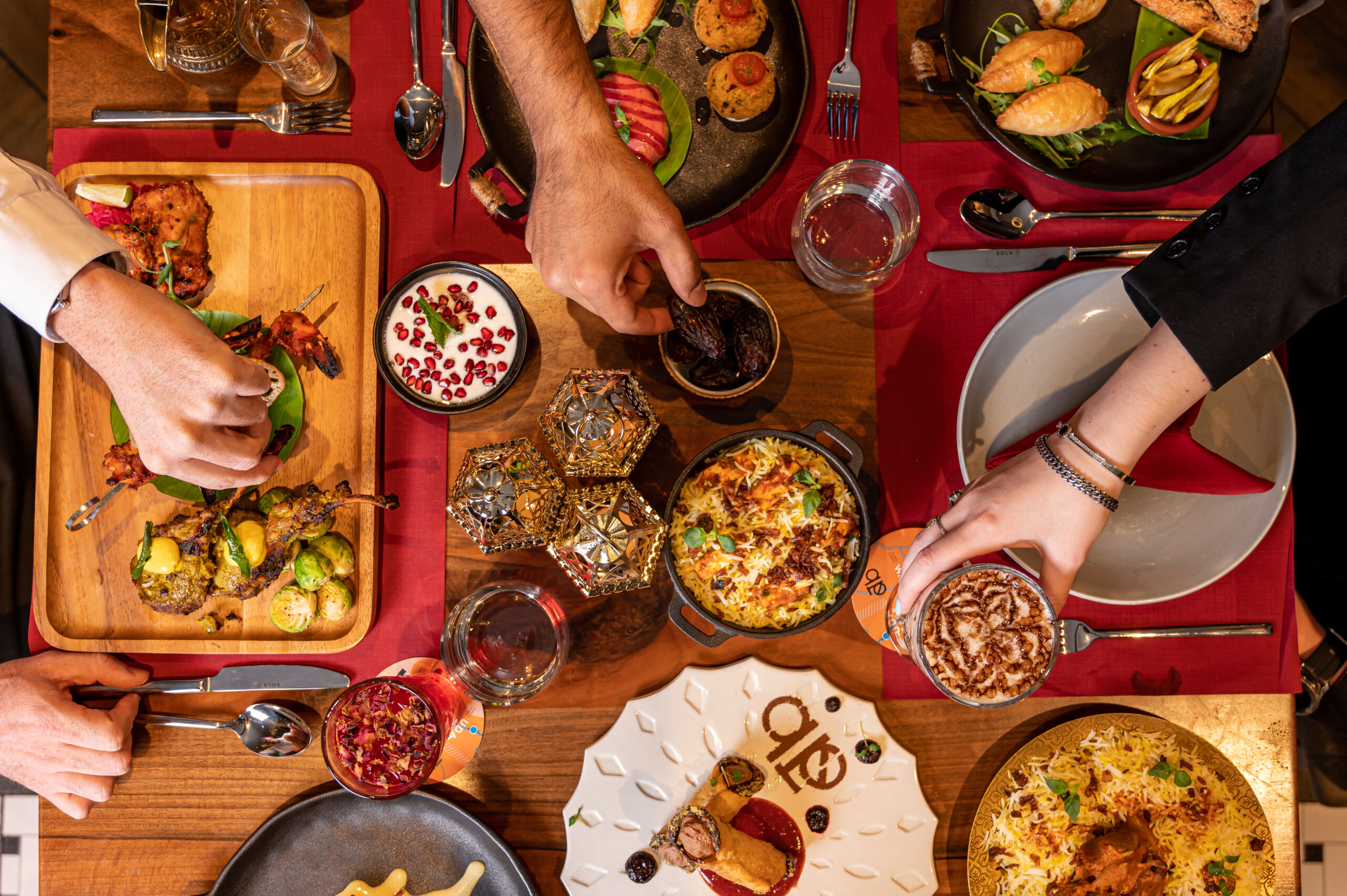 18. Iftar Menu at CLAP Restaurant, DIFC
CLAP Restaurant in Dubai, UAE, offers a unique menu that allows guests to try various dishes while maintaining their identities. With the most extensive rooftop terrace in DIFC, it's the perfect spot to enjoy the sunset and celebrate Iftar with friends and family.
The menu includes a new Goma Kunafa Dessert, which combines Japanese and Arabic culinary artistry to create a roasted sesame cheesecake foundation with an Arabic flair kadaifi topping. The Iftar set menu includes traditional platters, refreshing sushi and salad selections, and main courses such as sea bass panko, black cod miso, or marinated lamb rack. All dishes are cooked with no raw food or alcohol, making it a safe and comfortable dining experience.
Price? AED320 per person (min 2 people)
Where? CLAP Restaurant, DIFC
For bookings call +97145693820
17. Iftar Sunset menu at La Casa DXB
La Casa in DIFC's menu features a variety of delicious courses, including a choice of pumpkin or mushroom soup, hot appetizers like chorizo meatballs and empanadas, cold appetizers such as seabass ceviche and crab and lettuce pockets, salads like kale salad and quinoa salad, pasta and risotto options like potato gnocchi and spinach risotto, signature mains like slow-cooked short ribs and prawn saganaki, and desserts like churros and La Casa crepes.
Contemporary and elegant, La Casa is a beautiful restaurant and lounge set within the heart of DIFC. Featuring bold, colourful and light-filled interiors, with an intimate ambience and a delightful private terrace. La Casa serves a mix of classic international dishes and internationally inspired cuisine.
Price? AED250 per person
Where? La Casa, DIFC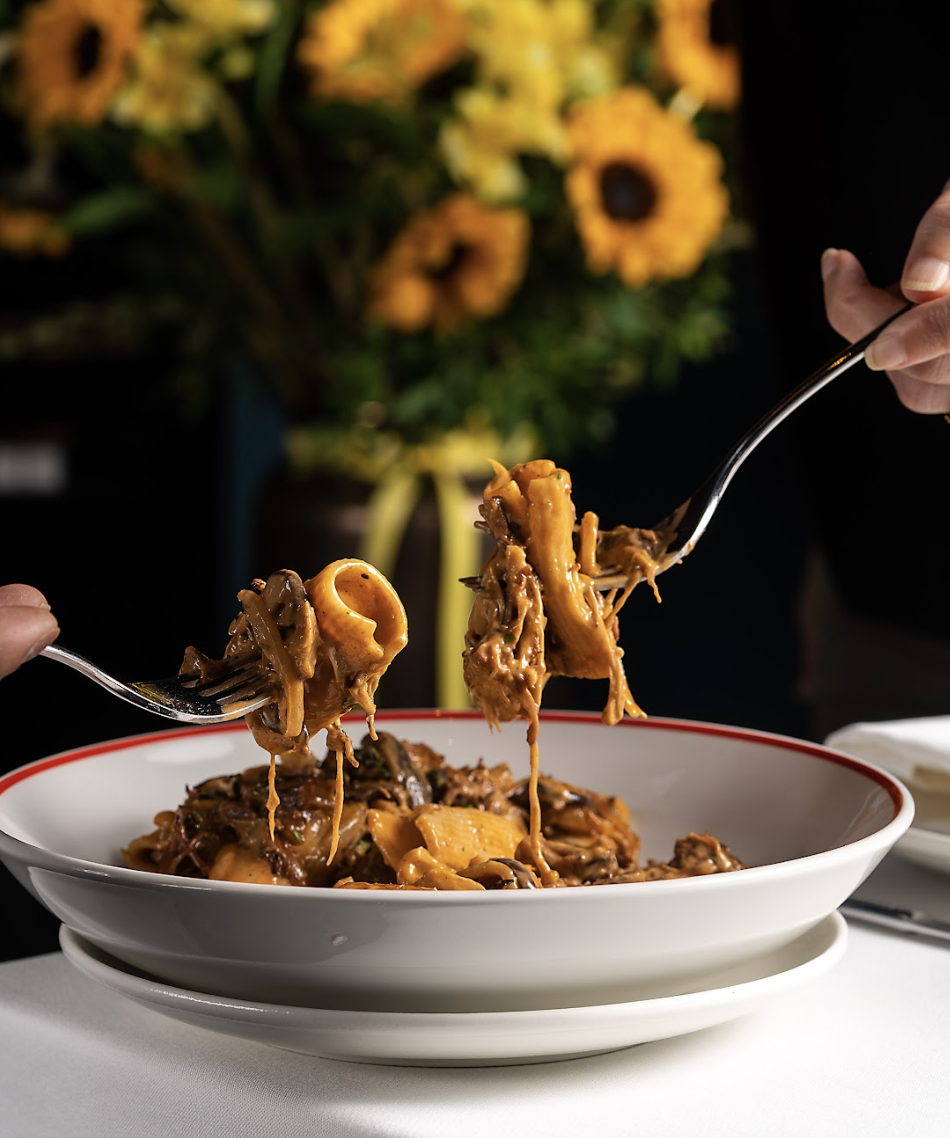 16. Group Iftar at Centara Mirage Beach Resort Dubai
Prepare to enter a world of awe and culinary excellence at Centara Mirage Beach Resort Dubai this Ramadan 2023. The table is to be adorned with inviting Ramadan staples like dates, apricots and other dried fruits. Falling in line will be signature Ramadan juices like Kamer Al Din and Jalab, followed by a varied selection of breads, soups, oriental mezze platters, hot mezze, an impressive salad bar, Indian chaat specialities, an Iftar buffet with traditional Arabic and Indian favourites and a decadent dessert spread.   
When? Throughout Ramadan 
Price? Starting from AED200 per person for a minimum of 30 pax 
*For more information and bookings, please contact mannyar@chr.co.th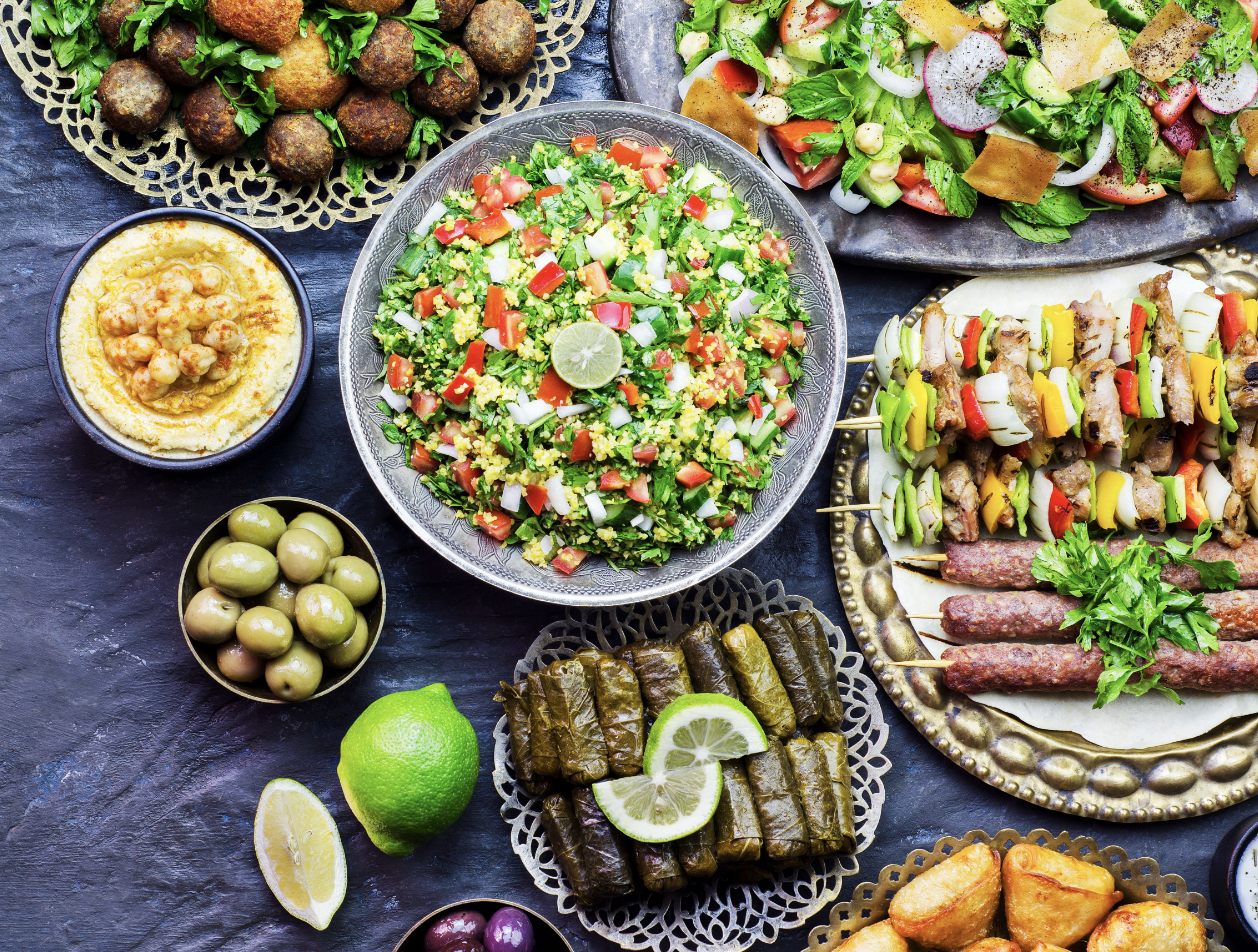 15. Pass It On – Rove Hotels
Iftar at Rove Hotels has a bonus treat for all Rovers. In contribution to the spirit of kindness during the Holy Month, every Rover who purchases an iftar will receive a free voucher for a second iftar to 'Pass It On' to a family member, friend, colleague, neighbour, helpful stranger, or someone in need. The Iftar vouchers can be redeemed at any of The Daily restaurants across the city and are valid for the holy month.  
When? Available throughout the month of Ramadan!
Price? AED99 per person 
Purchase an Iftar and get a voucher for a complimentary second Iftar

 

The 'Pass It On' voucher will be valid from the day after the original purchase
*T&Cs apply. Valid across all The Daily outlets.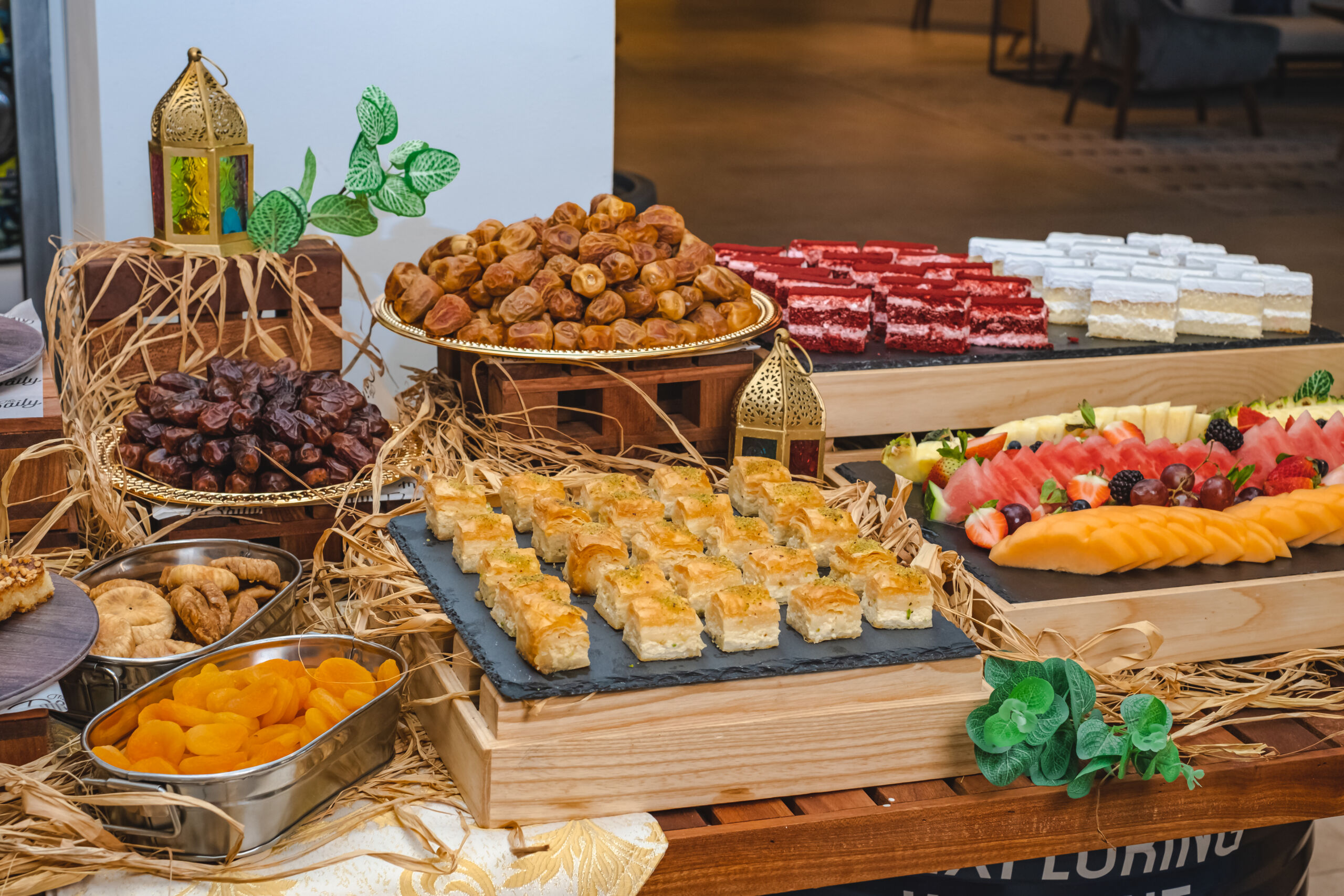 14. Hotel Indigo Dubai Downtown Unlocks the Flavours of Ramadan
This Ramadan, Hotel Indigo Downtown Dubai, the city's design-led boutique hotel, celebrates Ramadan with a flavour-packed Iftar. Set in the neighbourhood restaurant and café, Open Sesame guests can enjoy Iftar with loved ones for a price of AED 180 per person. For a relaxed Suhoor with Shisha, guests can enjoy an evening under the stars at Orange Feels for AED 150.
Experience the ultimate Iftar feast this Ramadan and leave the cooking to chefs at the Open Sesame restaurant.
Where? Open Sesame, Hotel Indigo Dubai Downtown
Price?
AED180 per person (Early bird 20% until March 23rd)
Kids 6 to 12 dine at 50% off
Kids below 6 eat free
Timing? Sunset to 10 pm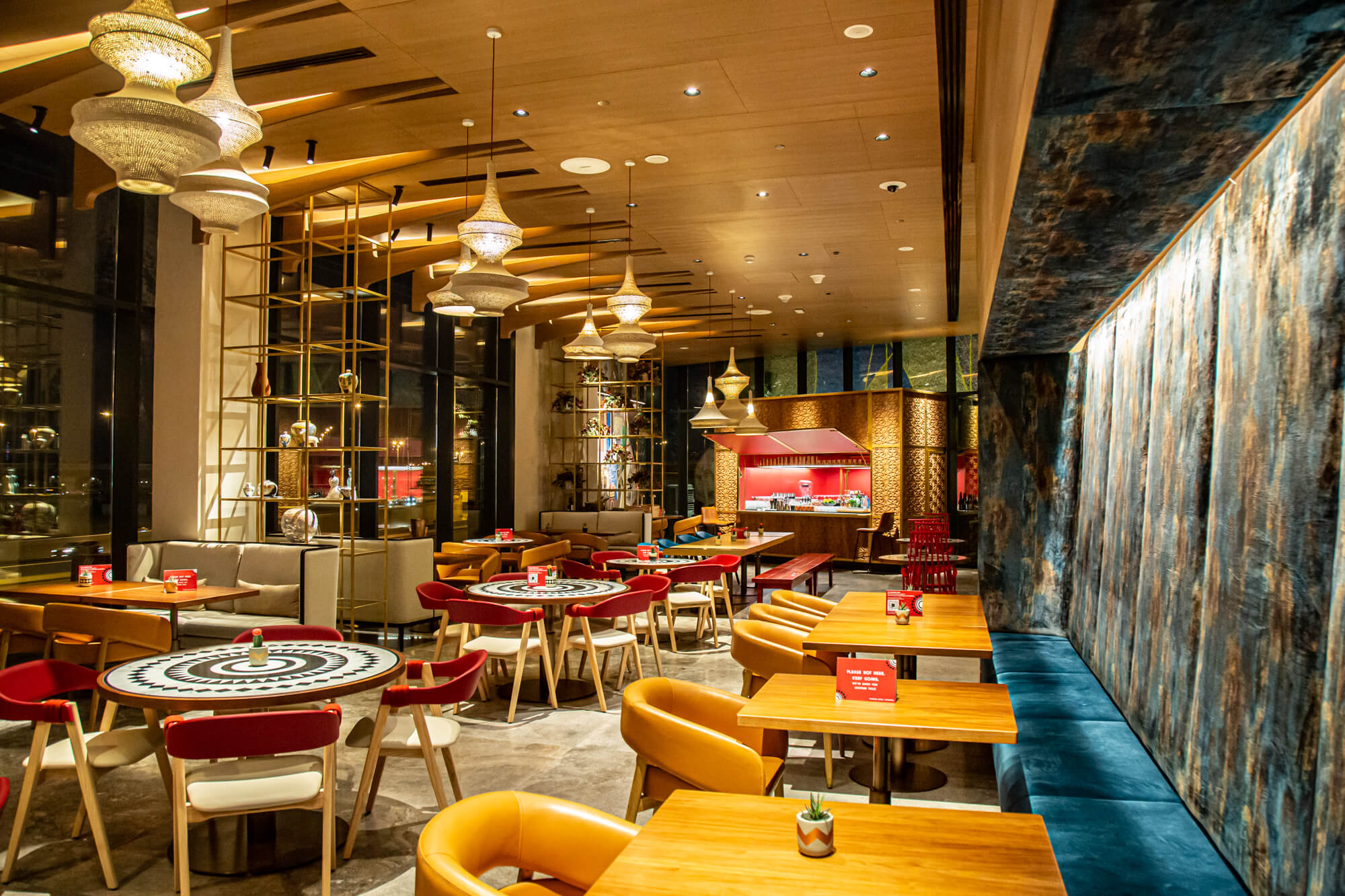 13. Indulge in Opulence and Culinary Excellence this Ramadan at Address Sky View
Relish what the city offers at Address Sky View. This skyline-defining architectural marvel is renowned for boasting the most awe-inspiring views of the Dubai skyline and offering a luxurious touch across their stay and dining options. During Ramadan, the hotel invites guests to experience unforgettable gatherings crafted to perfection for the holy occasion.
Savour a gourmet Iftar with loved ones at The Restaurant, located at the lobby level of Address Sky View. Boasting views worth marvelling at, this intimate gourmet restaurant is ready to serve traditional Iftar favourites from its live station buffet. Take your pick from an elaborate array of delicacies, global delights, and signature dishes, including mezzeh, sushi, salads, mains, desserts, and freshly made Ramadan juices. Traditional Arabic-style background music will set the scene for an evening of fun and feasting.
When? 23 March – 22 April 2023, Sunset to 9 pm
Offer? Gourmet Iftar Buffet
Price?
AED260 per person
50% discount for ages 6 – 12
5 years and below free of charge
*U by Emaar discount applicable only for the first week  
For reservations, please contact please get in touch with +97142458888.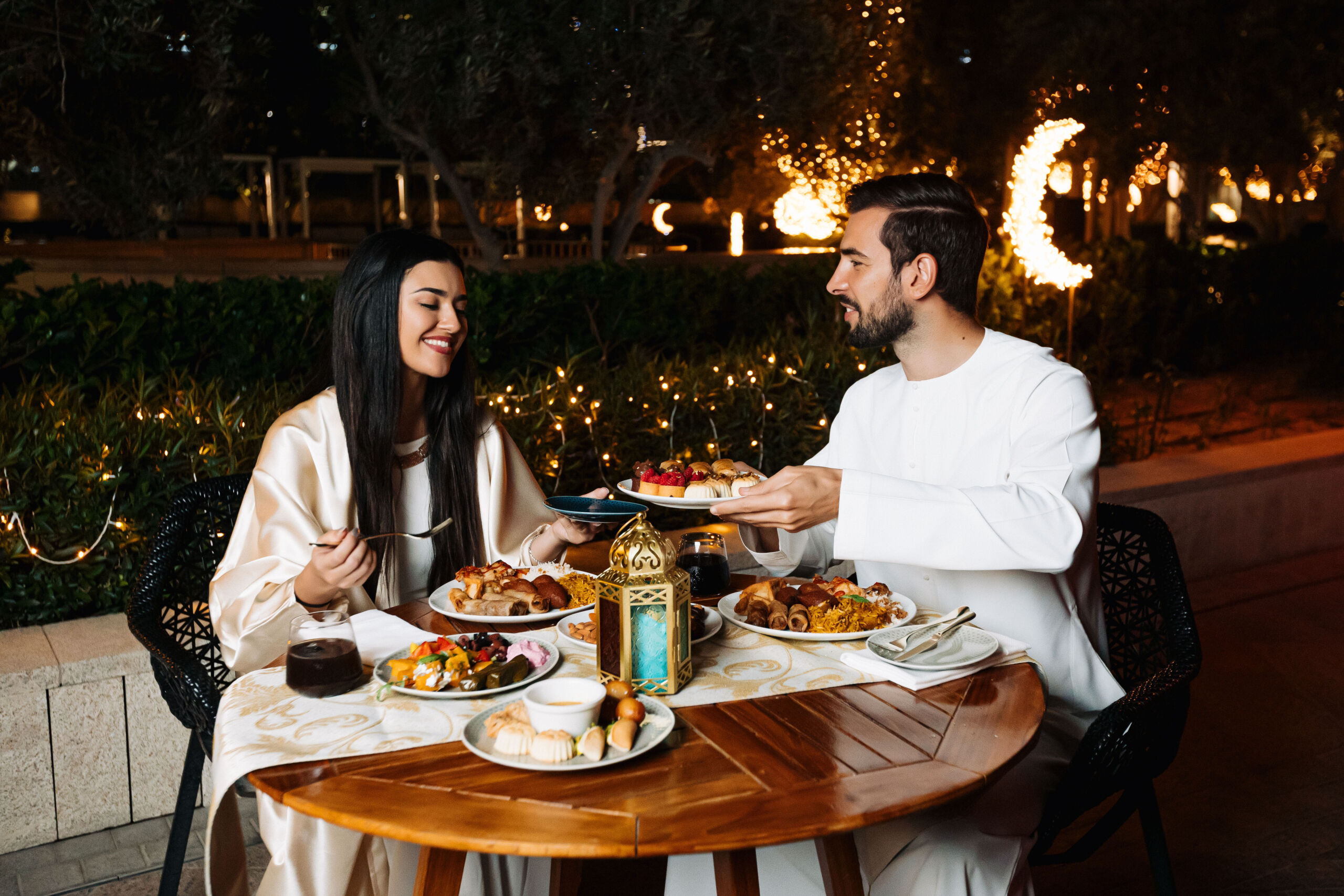 12. Feast at The Royal Iftar at Emirates Golf Club this Ramadan
Enjoy a regal iftar experience at Emirates Golf Club this Ramadan. Step into the opulent surroundings of the Royal Majlis and delight in an extensive array of authentic dishes and shisha while taking in breathtaking views of the Dubai skyline and the lush golf course. The Royal Majlis, with its distinct Bedouin-inspired tent architecture, will host an iftar every evening during Ramadan from sunset to 11pm.
Time? Sunset until 11pm
Where? The Royal Majlis, Emirate Golf Club
Price?
AED260 per person
AED 85 per child (5 to 11)
Children under 4 dine free
*Purchase a table of ten and two dine for free.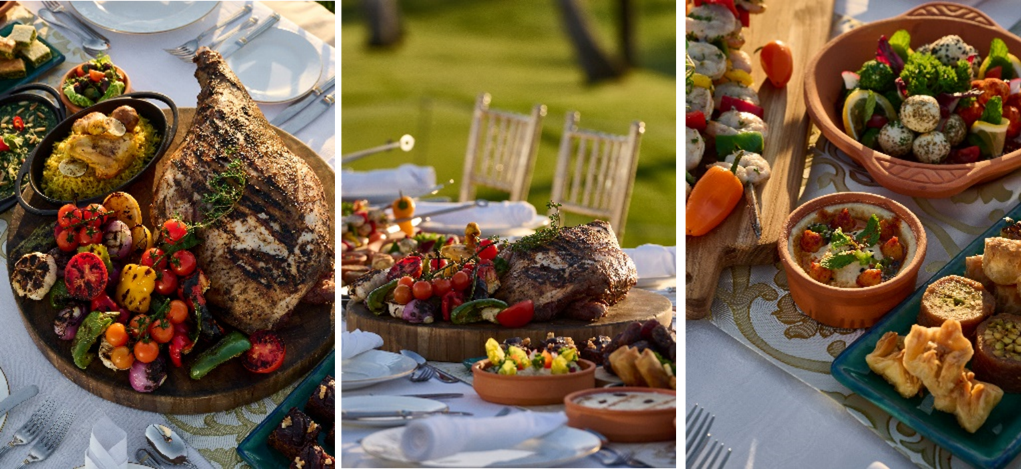 11. Lapa Eatery's nourishing iftar spreads serve the very best of delicious-goodness
Lapa Eatery, a Dubai-based venue celebrating clean eating and well-being, has announced a nourishing Ramadan spread that is equal parts healthy and delicious. With an array of gluten, dairy and preservative-free options, the spread is set to be delectable! Its exclusive iftar and suhoor offers, available daily from 10 am to 12 am throughout Ramadan, embrace the true spirit of the holy month with foods that are light and wholesome, and also gluten, preservatives, and refined-sugar free. 
The restaurant's kids' menu is a knockout win on both taste and health. It offers top favourites for the little ones, including burgers and nuggets that are served with baked sweet potato chips, margarita pizza with the most delish homemade cauliflower and broccoli base, and beetroot and carrot-based pancakes topped with caramelised peaches and mixed forest berries. 
Price? AED125 for one and AED199 for two
When? 23 March – 22 April
Time? 10am – 12am
Where? Lapa Eatery, Jumeriah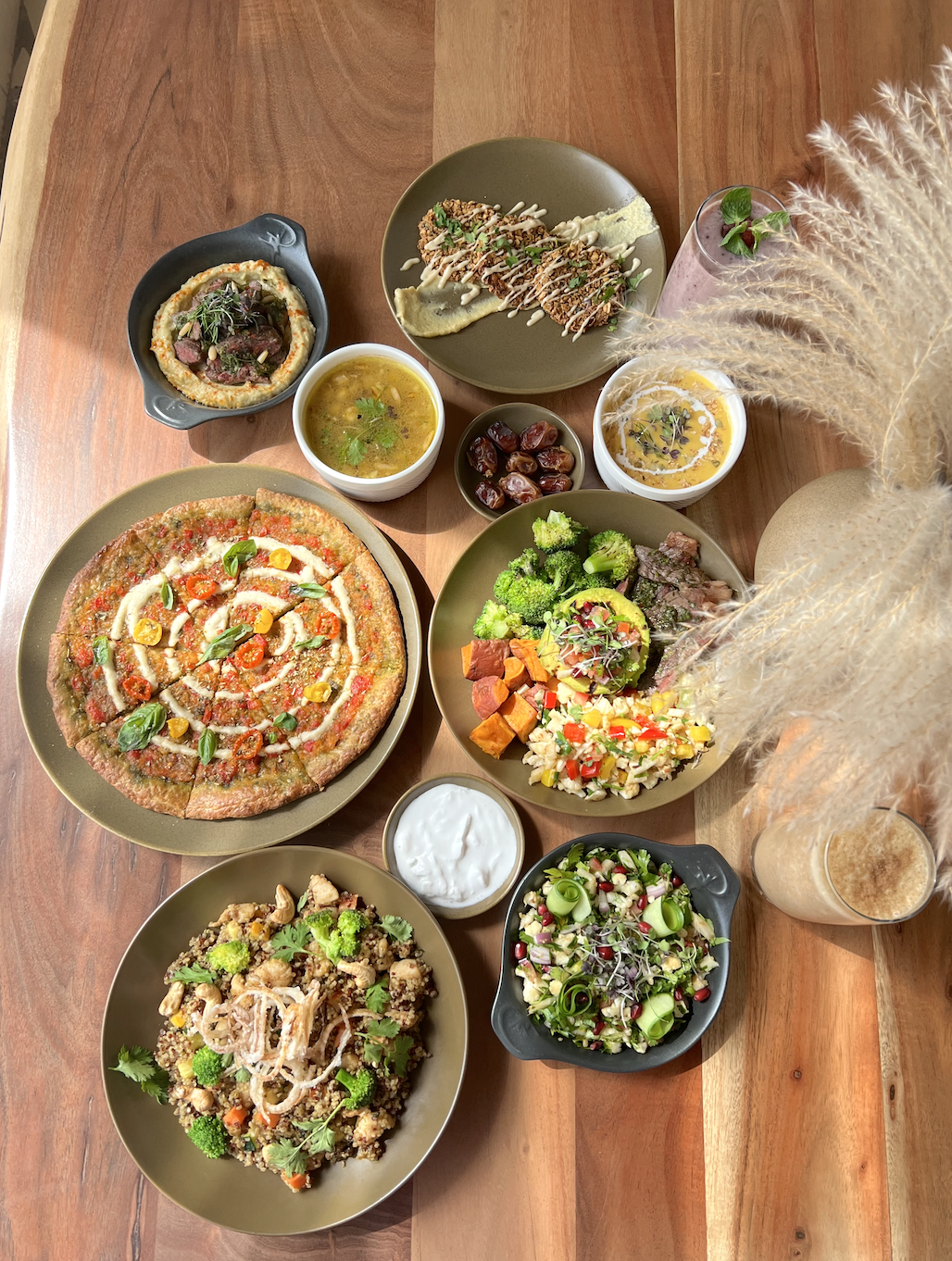 10. Celebrate Ramadan at the Picturesque Palm Garden in Park Hyatt Dubai
Enter a world of luxury as Park Hyatt Dubai prepares an exquisite Iftar buffet at the Palm Garden in Park Hyatt Dubai, tastefully curated for the month of Ramadan. Surrounded by beautiful flowering bushes and trees and a rich Arabian-inspired décor, the Palm Garden is tucked away within Park Hyatt Dubai, a relaxed atmosphere ideal for the peaceful month.
Served from sunset until 8.30pm, the Iftar buffet offers a tempting selection of traditional delicacies and international dishes prepared with the finest ingredients. Guests can indulge in succulent flavours of grilled meats and seafood, creamy risotto and cheese plates, and a variety of deliciously spiced dishes.
Price? AED325 per person
Time? From sunset to 8:30pm
Where? Palm Garden in Park Hyatt Dubai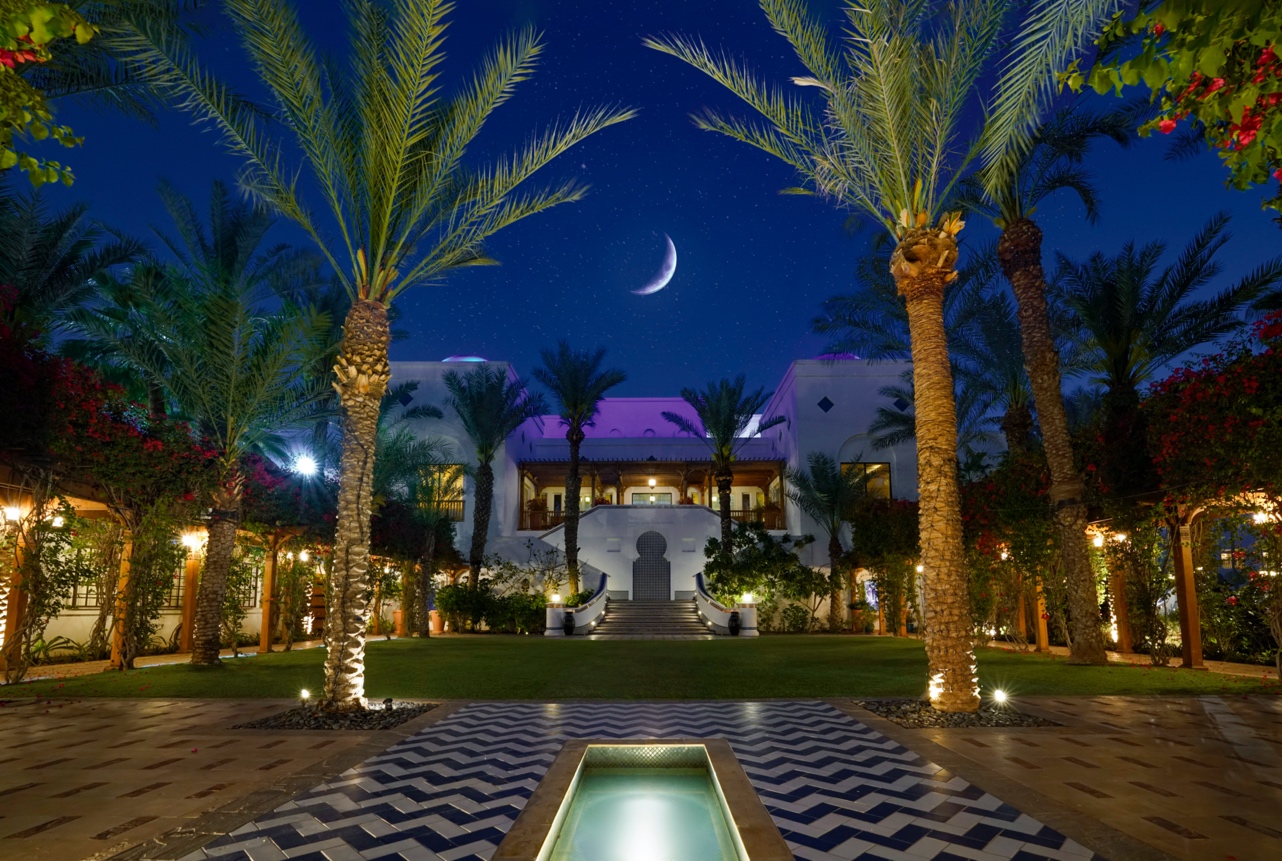 9. SLS Dubai's Iftar in the Sky makes for the ultimate Ramadan experience!
This Ramadan, SLS Dubai is inviting you to experience the ultimate iftar experience, surrounded by breathtaking city views and world-class hospitality.
For AED185 per person, you can indulge in a sharing-style menu that will take them on a culinary journey featuring traditional Arabic dishes with a signature SLS twist.
Starting with Medjoul Dates and fresh juices, guests can expect to be spoiled with warm, freshly baked breads and an array of traditional dips. Sharing-style starters include Falafel, Crumbed Asparagus, Rösti Potato, and a warm bowl of Lentil Soup. For the main course, guests can choose from abundant cuisines.
Where? Located on the 75th floor, the Iftar Tent is decorated with plush seating, colorful lanterns, and intricate Arabian carpets, creating the perfect ambiance for an unforgettable dining experience.
For bookings, email slsdubai@slshotels.com.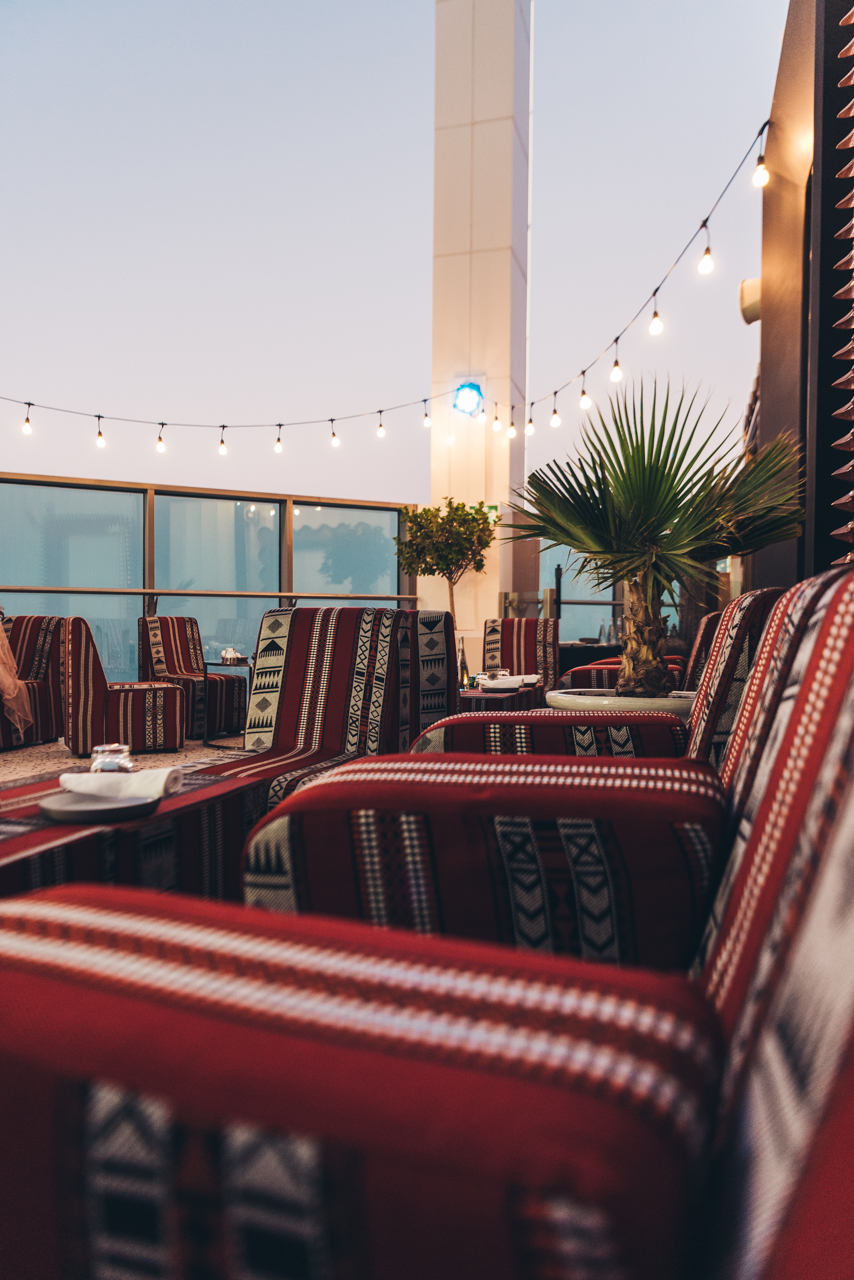 8. A class affair at Palazzo Versace Dubai 
Ramadan Hikayat Garden
Exclusively curated for the Holy Month, Palazzo Versace Dubai's charming Hikayat Garden returns for the month of Ramadan. Known for its extravagant hospitality, the hotel invites you to break your fast under the stars and enjoy an idyllic, al fresco Iftar and Suhoor experience, complete with a picturesque backdrop of the Dubai Creek. 
Served from sunset until 8:30pm, yo can indulge in a generous Iftar buffet featuring a wide selection of traditional Ramadan dishes, while from 9:30pm until 3am, diners can enjoy a delectable a la carte menu of international cuisine for Suhoor.
Time?
Iftar: 

A

fter sunset until 8:30p

m

Suhoor: 9

:30

pm to 

3

am

Shisha: 

9:30

pm to 

3

am
Price? AED250 per person, inclusive of water and a selection of Ramadan juices
 Iftar at Enigma
Experience a family-style Iftar celebration with the authentic Persian culinary traditions of Enigma. Indulge in a tempting set menu starting from the appetizing 'Sabzi Khordan' to a mesmerizing variety of fresh herbs with walnuts and dates, delicious homemade Persian cheese, roasted Persian bread, and more. Everything is set for you to have an indulgent iftar celebration with your family and friends.
Time? After sunset until 8:30pm
Price? AED250 per person
View this post on Instagram
7. A grand Iftar buffet awaits you at the Atrium Resto
This Ramadan, Grand Millennium Dubai, Barsha Heights, is inviting you to the ceremonial breaking of the fast with loved ones in the relaxed, warm, and inviting setting of The Atrium Restaurant. 120+ Traditional dishes from 8 different cuisines will be served alongside international delicacies prepared at the restaurant's live cooking stations. Alongside live oriental entertainment, a dedicated children's zone & play area will be provided.
When? Expected March 23 to April 20
Time? Sunset to 8.30pm
Price? AED249 per person
Where? The Atrium Restaurant, Grand Millennium Dubai, Barsha Heights
For reservations call 04 423 4170 or WhatsApp 050 340 5968.
View this post on Instagram
6. Spice up your Iftar with The Crossing's 5-course menus
The Crossing, a stunning Indian restaurant, is offering a choice of two five-course iftar menus this Ramadan. Diners can choose from vegetarian or non-vegetarian menus featuring delicious dishes like Bottle Masala, Mutton Pulav, Kofta (yogurt & prune croquette, Rangoon curry), and Broccolini Malai (grilled broccolini, cardamom cheese marinade, garlic crisps).
Price? AED175 per person
Time? 6pm to 9pm
Date? March 22 – April 21
Where? The Crossing, located at H Dubai on Sheikh Zayed Road
Contact +97144919695 or visit crossingtherestaurant.com to book your table.
View this post on Instagram
5. VYNE and dine at The First Collection Business Bay this Ramadan
Enjoy an Iftaar buffet consisting of a generous spread of levant cuisine and classic comfort food.
When? Throughout Ramadan
Time? Sunset – 9 pm
Where?  Vyne, The First Collection Business Bay
Price?
Buffet & Ramadan juices for AED 165 per person
Kids (8 – 11 y/o): AED 85
For reservations call 04 873 4422.
View this post on Instagram
4. Indulge in a feast that's fit for a king with MyGovinda's Iftar spread – full of incredible veg delights & the taste of modern India
Capturing the spirit of Ramadan with cuisine that's light and wholesome!
Giving a taste of everything refreshingly light and invigorating and offering fan-favourites such as Greek salad, beetroot hummus, piquant soups, savoury kebabs and sweets, MyGovinda's is all set to win hearts this Ramadan.
Starters include hara bhara kababs made with fresh greens and veggies, the mild and creamy paneer malai tikka, while mains include the mildly tangy and faintly sweet but incredibly delish paneer lababdar, spicy and savoury vegetable kolhapuri, and earthy and aromatic dal tadka with a choice of bread and rice. To top it off, guests will be presented with traditional Indian sweets like ras malai and gulab jamun.
Price? The 5-course set menu comes at:
AED89 for 2
AED 179 for 4
When? 23 March – 20 April (subject to change as per moon sighting)
Time? 6.45pm to 8.30pm
Where? Any MyGovinda's Outlet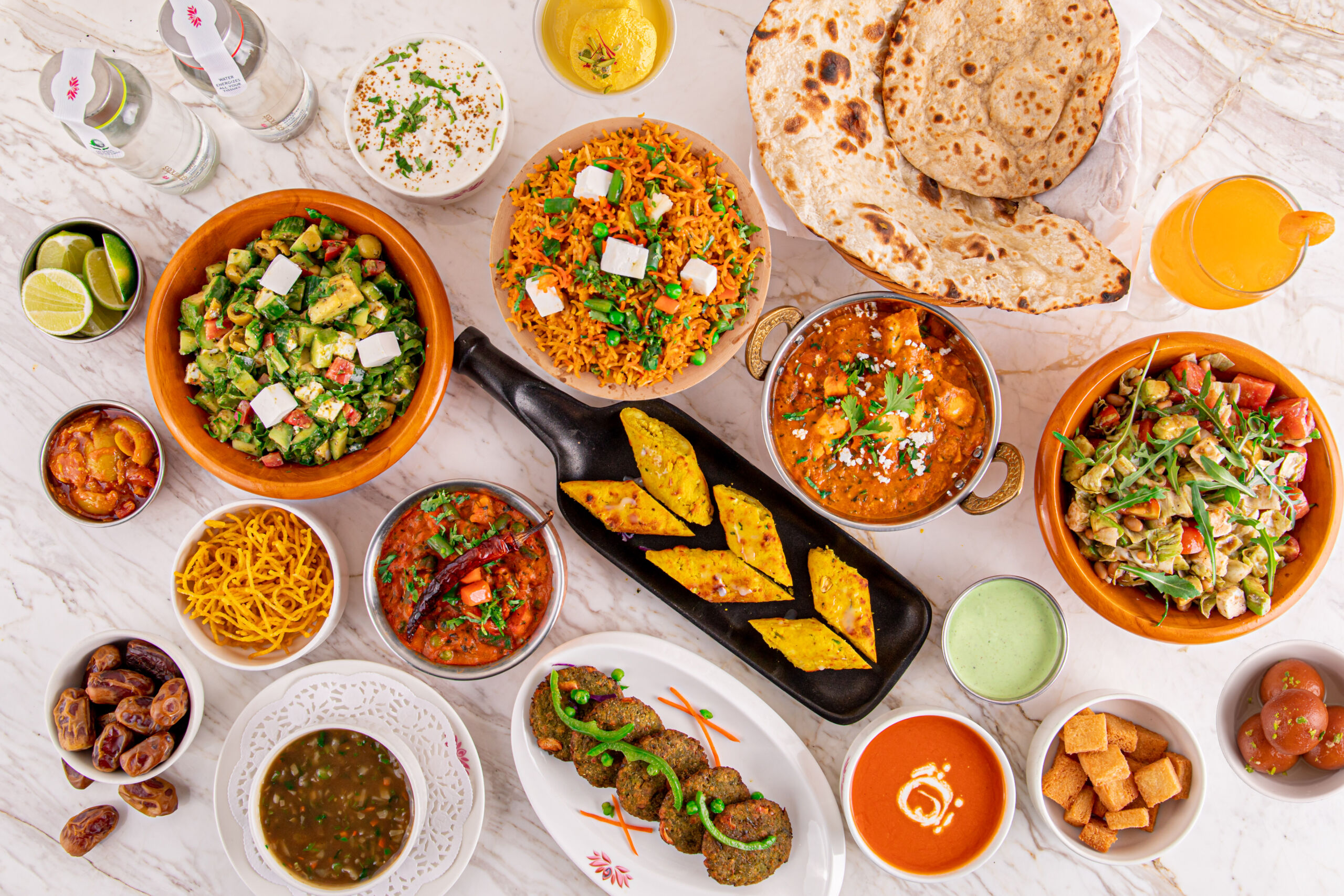 3. A tradish Ramadan feast awaits at Lo+Cale, Crowne Plaza Dubai Marina
Lo+Cale, the hotel's all-day dining restaurant in the five-star Crowne Plaza® Dubai Marina, invites you and your loved ones to join them in celebrating Ramadan with a spectacular Iftar Buffet. Priced from AED 175 per person, it is the ideal place to enjoy the holy month of celebrations.
Time? From sunset till 11pm
Price?
AED175 per person
AED100 per person for a group 10 and above
AED85 for kids between the age of 7 to 11
Complimentary for 6 years old and below
Additional AED100 onwards for hubbly bubbly
Where? Lo+Cale, Crowne Plaza Dubai Marina
For bookings, contact +971549978599.
View this post on Instagram
2. Break fast under the stars at Habtoor Grand Resort this Ramadan!
Experience the perfect blend of culture and culinary finesse at the Habtoor Grand Resort, Autograph Collection this Ramadan.
Enjoy the exquisite outdoor setting and traditional Arabic delicacies in a spacious starlit garden, complete with Arabic décor.
Feast on a tempting spread of hot and cold mezza, lamb Ouzi, live cooking stations, delectable desserts, and refreshing beverages, including international delights to serve all palates.
Price? AED190 per person
Time?
From sunset to 9 pm
Experience Suhoor at Salamar Shisha Lounge with an à la carte menu from 9.30pm – 1am
Book your spot now by calling +97143995000.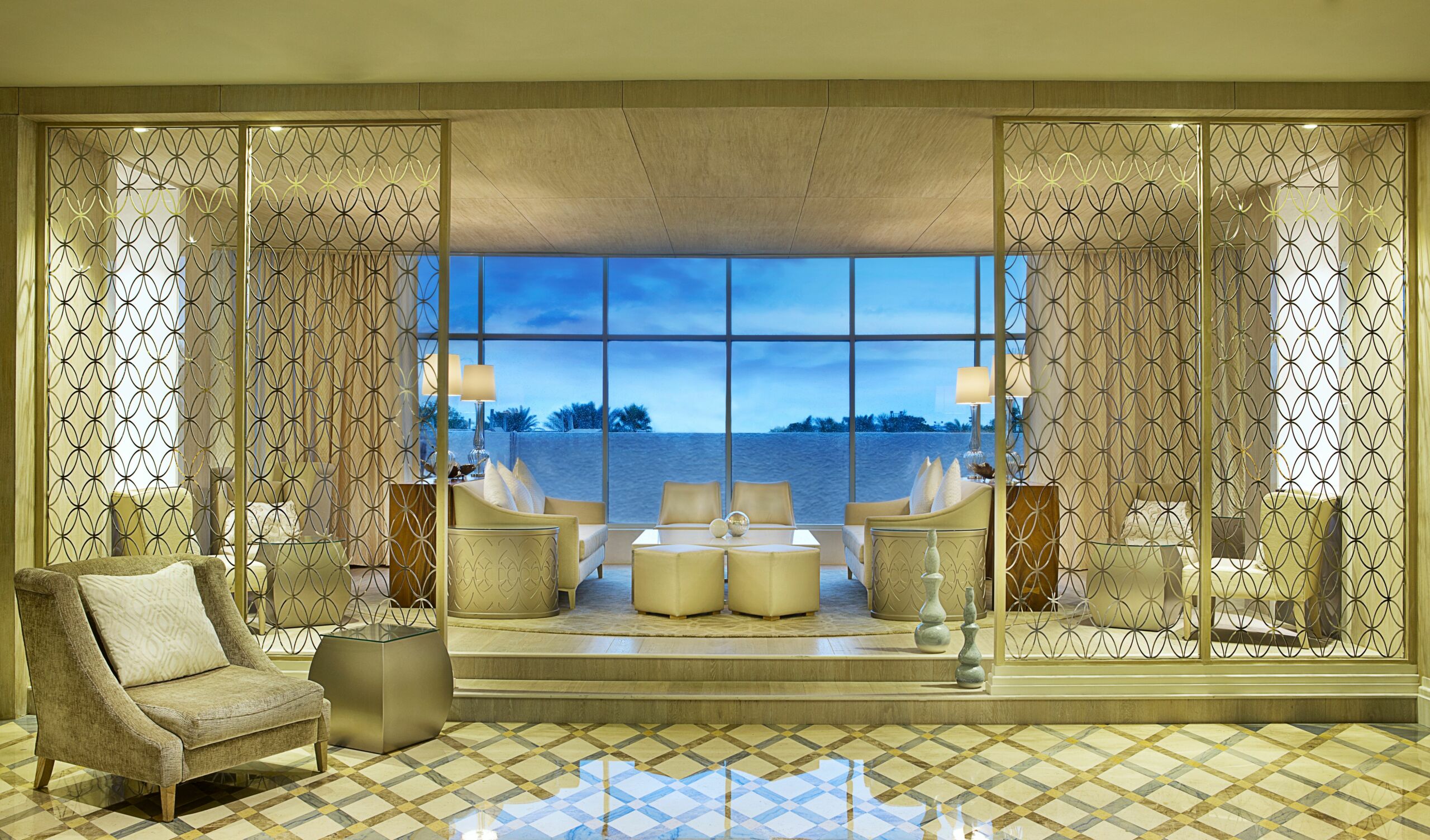 1. Asateer Tent at Atlantis, The Palm is back this Ramadan and better than ever!
With beautiful terrace seating options, you can enjoy a fusion buffet featuring various theme nights, including international, Arabesque, Khaleeji, Persian, and Turkish cuisine.
Enjoy different cuisines, desserts, and live entertainment. Don't miss the chance to dine at one of the largest Ramadan tents in the UAE!
Price?
The Iftar buffet is priced at AED260 per person for weekdays
AED280 per person for weekends, inclusive of water and Ramadan juices
Suhour is also available with a minimum spend of AED180 per person for weekdays and weekends
Time? 10pm until 2:30am
Where? Asateer Tent at Atlantis, The Palm
Reservations can be made by calling +971 4 426 2626. 
Watch the Lovin Dubai Show: The UAE Is The Best Country In The World For Expats
ALSO READ: Sujith Varghese Is The First Person of Determination In A Wheelchair To Became A Personal Trainer In Dubai
Get the latest Dubai news direct to your phone RN! Download The Lovin Dubai app for free RIGHT HERE (App Store) (Play Store) to get the latest trending stories to your phone.