Announcements
Women In The UAE Are Standing In Solidarity With Their Iranian Sisters Amid Anti-Hijab Protests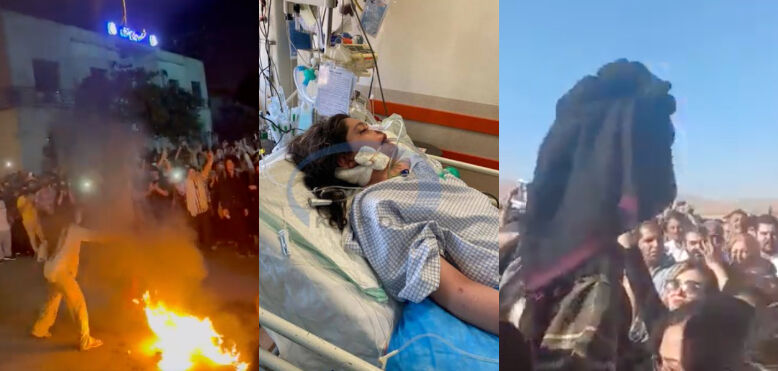 Mass demonstrations in support of women's right to choose their own attire and against Iran's oppressive regime are still ongoing following the death of 22-year-old Mahsa Amini.
Amini was arrested by Iran's "morality police" in the capital, Tehran, on 13 September, for allegedly not wearing a hijab in full compliance with mandatory requirements. Local and international bodies confirmed that the Kurdish woman fell into a coma shortly after collapsing at a detention centre and died 3 days.
Women all over the world have been cutting their hair and taking to the streets to burn their veils in solidarity with Amini, and as a show of resistance to the long-standing misogynist oppression.
More than 75 people have been killed as anti-hijab protests intensify across Iran. As a result, the UN Human Rights is voicing its concern over the violence & internet restrictions in Iran
🇮🇷#Iran: We are concerned by continued violent response by security forces to protests & communications restrictions following death of #MahsaAmini. Iranian authorities must respect rights to freedom of opinion, expression, peaceful assembly & association. https://t.co/8g4MwQUKMK pic.twitter.com/4M4sRLcUi2

— UN Human Rights (@UNHumanRights) September 27, 2022
On September 27, a spokesperson for the UN High Commissioner for Human Rights, Ravina Shamdasani called on Iran's rulers to "fully respect the rights to freedom of opinion, expression, peaceful assembly and association"
The spokesperson added that,
"We are extremely concerned by comments by some leaders vilifying protesters and by the apparent unnecessary and disproportionate use of force against protesters. Firearms must never be used simply to disperse an assembly."
"Reports indicate hundreds have also been arrested, including human rights defenders, lawyers, civil society activists and at least 18 journalists. The Government has not announced the overall number of arrests." In Iran, women are removing their hijabs in solidarity and have walked out on the streets chanting slogans against the current government.
2) Women protests are very powerful, they make up 50% of the entire population and hijab laws discriminate them specifically so this is bad for the Ayatollah and Ebrahim Raisi.. Iran needs to let go of most it's oppressive laws inside their country to try & fight foreign enemies. pic.twitter.com/3mmIMqEesG

— Mr T (@T5HIVHASE) September 21, 2022
The UN further condemned communication restrictions across the country and added, "This undermines numerous human rights, notably the right to freedom of expression. We call on the authorities to fully restore Internet access" 
Although they have partially restored connections after receiving backlash, where several people began to trend the hashtag #KeepItOn.
CEO of Tesla Inc, Elon Musk has activated Starlink in the region in support of protesters.
The wearing of a hijab should be a woman's choice. They shouldn't be attacked for wearing one, they shouldn't be attacked for choosing not to. We should be supporting their choice, not policing it.

— Rahul Kohli (@RahulKohli13) September 25, 2022
Women all over the UAE are standing in solidarity with their Iranian sisters and are calling for justice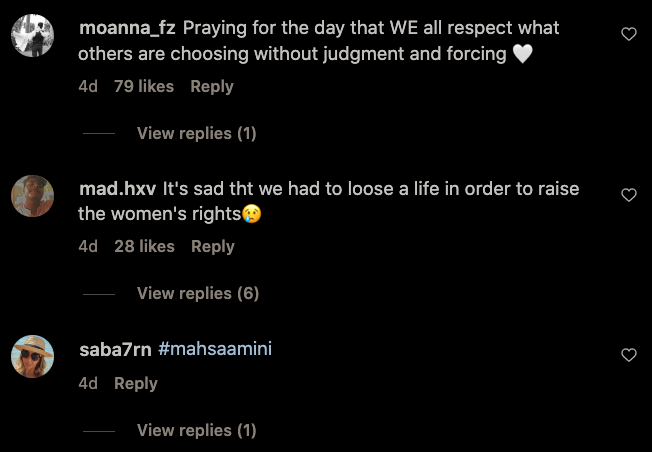 Manal Rostom, a Dubai resident hailing from Egypt, wrote, "What's happening in Iran is Morally & Islamically unacceptable and inhumane"
Her post went on to read,
"I stand with the women of Iran ✊🏽✊🏽 🇮🇷…
Iran is not exercising the right form of Islam.
They are exercising a pure form of Patriarchy. The way I see it is a bunch of mentally Ill men taking out their frustration on innocent women. This is NOT about culture nor religion.
This is about MALE CHAUVINISM, In Iran!!!!
I pray for a tolerant world where women are FREE to be whatever they want and to do whatever they want with their bodies. Cover it or uncover it."
View this post on Instagram
Iranian singer and Dubai resident, Layla Kardan wrote, "I am not my hair, I am not my skin, I am the soul that lives within #mahsaamini"
View this post on Instagram
Please note that protests are illegal in the UAE. For an assembly to be legal, official permission must first be taken from the government. "If an assembly of individuals endangers public peace by the individuals' participation in demonstrations and/or protests, and where such gathering refuses to disperse even when it is ordered by the police, then the participation of an individual in such a demonstration, protest or public gathering may be considered an offence in accordance with Article 197 (1) of the Federal Law No. (3) of 1987 on the Issuance of the Penal Code."
Watch The Lovin Dubai Show: LIVE With Former Wimbledon Doubles Champion Sania Mirza
ALSO READ: Sujith Varghese Is The First Person of Determination In A Wheelchair To Became A Personal Trainer In Dubai
Get the latest Dubai news direct to your phone RN! Download The Lovin Dubai app for free RIGHT HERE (App Store) (Play Store) to get the latest trending stories to your phone.