Latest
WATCH: UAE Special Olympics Star Athlete's Dreams Come True Meeting Usain Bolt In Dubai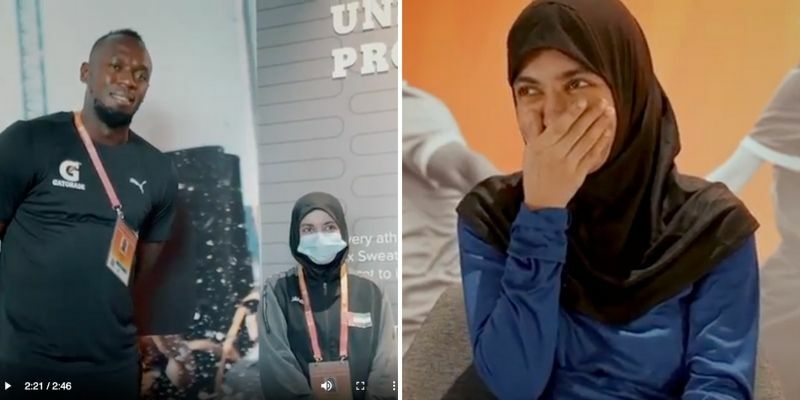 Hamda Ali Abdullah Hosain is a member of the UAE Olympics National Team for People of Determination and back in 2019, she said her dream was to meet the world's fastest man.
With 17 Special Olympic medals under her belt, Hamda is an inspiration herself. She never let her epilepsy diagnosis hold her back, she's noted as a heroine in the community for championing others to embrace sport, and so with Usain Bolt coming to town, PepsiCo wanted to do something special.
In 2019, Hamda said Usain Bolt was her hero, so Gatorade and Expo worked together to make her dream come true
In this amazing footage, Hamda was asked to come to Expo to film a message to her hero. In it, she thanked Bolt for being her source of inspiration, for 'pushing her to new levels of running'… Little did she know, the sprinting legend was listening to every second and after he responded, Hamda was then invited to join him front and centre at his Expo Run in Dubai.
Watch: Get goosebumps from 1.59
View this post on Instagram
Usain invited Hamda to run with him at Expo
It was amazing to meet the Emirati Special Olympian Hamda AlHosani, she won gold in the 100m too. Hamda, you've overcome so much and have inspired so many people. You do what you love, even when it's not easy.
Usain Bolt
Shared by @pepsicoarabia @gatoradearabia
Usain's run at Expo and Hamda's participation helped raise money for Al Noor Rehabilitation & Welfare Association for People of Determination.
Usain Bolt made the most of his trip to Expo by visiting the Jamaica Pavilion
View this post on Instagram
Did you visit Dubai if you didn't try dune-bashing in the desert?
Bolt posted about his whole trip, which included his run at Expo,  a visit to the Jamaica Pavilion, dressing in a kandora, and trying shisha in the desert!
View this post on Instagram
Read next: EVERYTHING You Need To Know About Expo 2020 Dubai