Latest
Another Marine Snake Was Spotted At Dubai's Al Sufouh Beach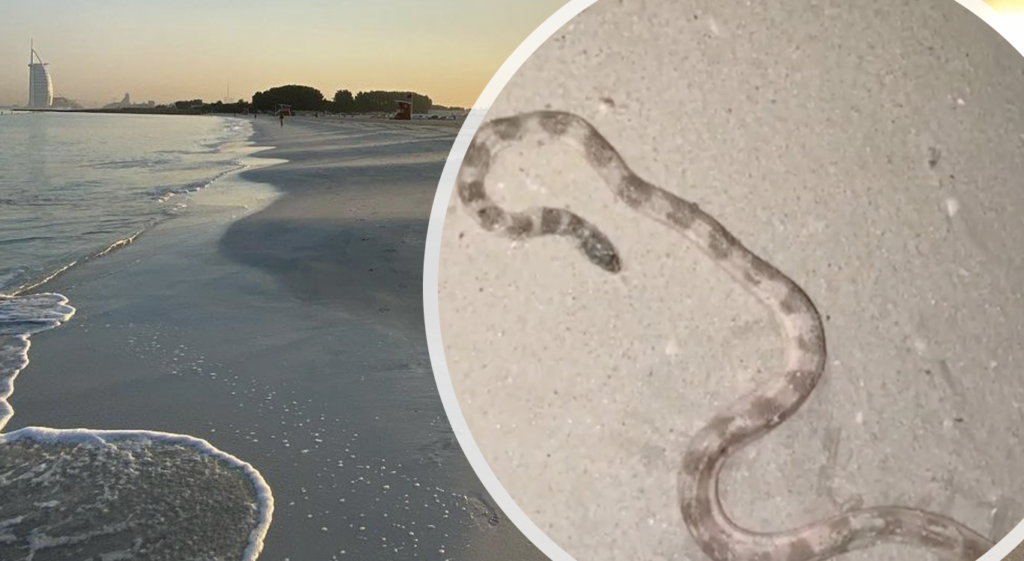 Ahhh winters! Breezy days, cloudy skies and sweater weather, what's not to love about the winters in DXB eh?!
The only thing residents need to be cautious about in Dubai these winters are marine snakes. This is because the cooler weather will bring in sea snakes closer to shallow coastal waters to feed on small fish and mate since they prefer cooler temperatures (and retreat back to deeper water as temperatures peak during the summer months).
With that being said, only a few weeks ago (September 24) a Dubai resident, Ken Mack spotted a snake on Al Sufouh beach and flung it back into the water. Now, another beachgoer, Amro Benamar found another stripped Arabian Gulf sea snake writhing around in the sand at the same beach.
Residents are being reminded to NOT panic when finding a sea snake and proceeding with caution
According to the Emirate's Environment and Protected Areas Authority (EPAA), sea snakes at the beach are not uncommon and about 5-6 snake species live in the UAE's waters and are unthreatening to swimmers unless subject to mistreatment.
Should you get bitten by a sea snake, rush to the nearest hospital, because bites from certain species can be fatal.
Earlier last week, the Environment Agency – Abu Dhabi (EAD) issued a warning on sea snakes:
"Abu Dhabi waters are home to sea snakes, known locally as Bogni. Sea snakes inhabit open and shallow waters, coral reefs and beaches. Many marine snakes have been spotted on some of the emirate's beaches," noted EAD.
If you spot a snake in your backyard or other residential areas, authorities urge that you call Dubai Municipality on 800900 instead of taking matters into your own hands.
.@EADTweets urges the public to be cautious of sea snakes on #AbuDhabi's beaches as winter approaches and temperatures fall. pic.twitter.com/2LYq1jWrU1

— مكتب أبوظبي الإعلامي (@admediaoffice) October 7, 2021
Watch the Lovin Show: Young Arabs Would Choose To Live In The UAE Over Anywhere Else In The World
Feature image credit: @kassab_yahya and @benamar.amro